AMD EPYC 7551 Linux Benchmarks
One step below AMD's current top-end EPYC 7601 server processor is the EPYC 7551. The EPYC 7551 costs around $800 USD less than the 7601 while still being a 32 core / 64 thread part but with slightly lower clock frequencies. In this article is a look at the EPYC 7251 / 7351P / 7401P / 7551 / 7601 Ubuntu Linux performance compared to various Intel Xeon CPUs in our lab.
The 32-core / 64-thread EPYC 7551 has a 2.0GHz base frequency, 2.55GHz max all-core boost frequency, and 3.0GHz maximum boost frequency compared to the EPYC 7601's 2.2GHz base frequency, 2.7GHz all-core, and 3.2GHz maximum boost frequency. But with these slightly reduced clock frequencies are significant cost savings with the EPYC 7551 having a suggested retail price of about $3400 USD compared to the 7601 coming in at $4200.
The EPYC 7551 has pretty much everything else in common with the EPYC 7601 with the standard 512kB L2 cache per core, 64MB L3 cache, eight memory channels at DDR4-2666 speeds, 128 PCI-E lanes, etc. The "benefit" of the 7551 besides the cost is also a slightly lower TDP that peaks at 170 Watts compared to 180 Watts, but the main selling point for the 7551 is offering close to 7601 performance levels but for those not wanting to spend quite as much on the 7601. With this being a non-P processor, the 7551 can be equipped in a dual socket configuration but for our current testing we only have a single socket setup and non-matching processors.
This EPYC 7551 ends out the current selection of EPYC processors we received from AMD as review samples for testing. The EPYC processors we've tested now have included the 7601, 7251, 7351P, and 7401P.
All of our EPYC testing has been with the TYAN Transport SX TN70A-B8026 2U server. It's been working well with our EPYC testing over nearly the past two months. Next week I'll also have a recap/overview article again about this great barebones server. Testing has been with a Samsung 850 PRO SSD and 8 x 16GB DDR4-2666 memory.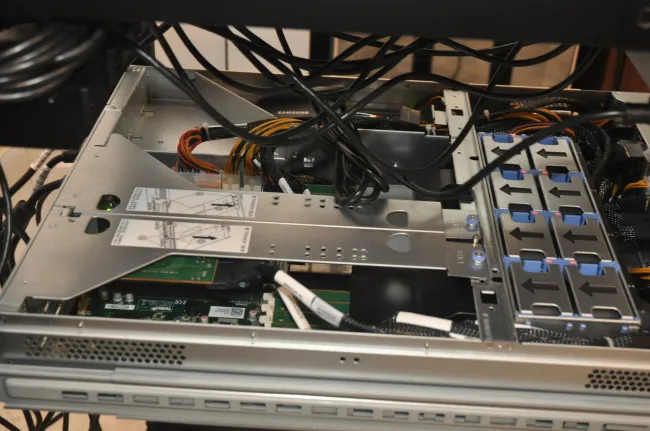 In addition to the available EPYC CPUs tested in this comparison, the ready Intel Xeon systems I have available for testing at this time included the Xeon E3-1245 v5, E5-1680 v3, E5-2609 v4, E5-2687W v3, Silver 4108, Gold 6138, and 2 x Gold 6138.
All of the systems were running Ubuntu 17.10 x86_64 (due to its newer components than 16.04.3 LTS and being close to the state of April's Ubuntu 18.04 Bionic Beaver release), using numactl --interleave=all in the tests that mattered, switched to the "performance" CPU performance scaling governor, and using the Linux 4.13 kernel / GCC 7.2 compiler.
All of these benchmarks facilitated using the Phoronix Test Suite.