Acer B286HK: A 28-inch UHD LED 4K Monitor For As Low As $350
For anyone paying attention to online deals websites this week likely noticed the Acer B286HK retailing for just $350 USD. While it's not unusual these days for a 28-inch monitor to sell for less than $400, it is a different story if it's a 4K desktop monitor -- especially from a reputable brand. I ended up picking up an Acer B286HK and it's been working out great for my needs.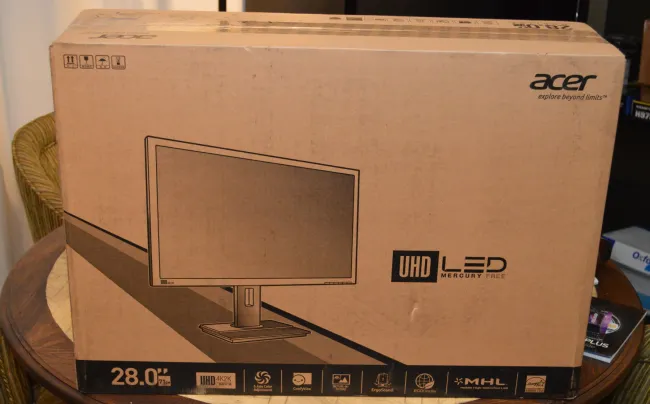 On Monday the price of the Acer B286HK ymjdpprz dropped to $349.99 USD at NewEgg. At Amazon the price as of writing is $439 while most other Internet retailers have this 3840 x 2160 28-inch Acer monitor for selling $500~600. For those that didn't snatch up the deal when it first showed up, unfortunately, as of writing this article the price still shows up at $350 on NewEgg but is shown as out-of-stock. Anyhow, we'll see what happens as even around $400 this monitor is still very cheap compared to the competition.
When seeing the deal I ordered the Acer B286HK ymjdpprz as I've been in the market for a 4K monitor for my main system. While I use a Seiki 39-inch 4K TV for most of my Linux hardware 4K graphics/driver tests over the past year, I've been after a 4K display for my main production system. I've been using this Acer monitor since Tuesday morning and have so far been very happy with the very low priced Ultra HD display.
The Acer B286HK UHD LED display replaced the ASUS PB2878Q WQHD display as my main monitor and in fact that 2560 x 1440 display cost more than what I paid for this Acer 3840 x 2160 panel. The B286HK has been wired up to the ASUS Zenbook UX301LLA ultrabook that I'm still using until the Broadwell ultrabooks come around. The Core i7 4558U with Intel Iris Graphics 5100 has no problems driving the display at 4K using a micro HDMI adapter to the monitor. The monitor at 3840 x 2160 is limited to 30Hz, but that's fine for my main production system that's limited to office tasks and code development. Likewise, with no Linux gaming on this system, the Iris Graphics are fast enough at 4K for desktop work on Ubuntu 14.04 LTS.
The Acer B286HK shipped with all of the cables one would need for setup... HDMI, DisplayPort, and dual-link DVI. There's also an analog audio cable if not doing audio over DP/HDMI. This monitor also has a built-in USB 3.0 hub. There are dual two Watt speakers built into the display. As with most monitors, the speakers aren't anything extraordinary but good enough if you just care about basic sound.