Virtualization Made Easy In Ubuntu 8.04
If you have enough processing power, you can easily fire up multiple virtual machines, run them simultaneously with KVM, and manage all of them through virt-manager with ease while keeping track of the resource usage.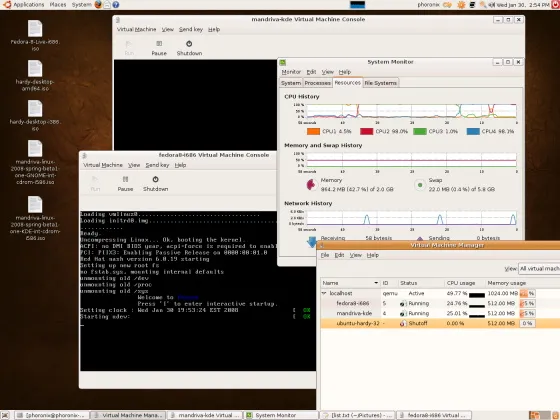 Firing up a few Linux distributions is painless with virt-manager and you can even pause a live VM.
Virt-manager / libvirt makes Linux virtualization incredibly easy to use -- for nearly anyone -- while at the same time being very feature-rich and sets the stage for more virtualized innovations to come in the future. Virt-manager is a great addition for Ubuntu 8.04 "Hardy Heron" and will certainly open up more users to the growing world of virtualization.
If you enjoyed this article consider joining Phoronix Premium to view this site ad-free, multi-page articles on a single page, and other benefits. PayPal tips are also graciously accepted. Thanks for your support.