ASUS Radeon HD 3850 & 3870
System Setup:
We had benchmarked the ASUS EAH3850 and EAH3870 on a system using the recently reviewed ASUS P5K-E motherboard, 2GB of OCZ Reaper HPC 2GB PC2-8500, Western Digital 160GB SATA 2.0 hard drive, SilverStone Zeus 750W power supply, and an Intel Core 2 Duo E6400 processor clocked at 2.56GHz. This system was running Ubuntu 7.10 32-bit with the Linux 2.6.22 kernel, X server 1.3, and the fglrx 8.44 "7.12" driver.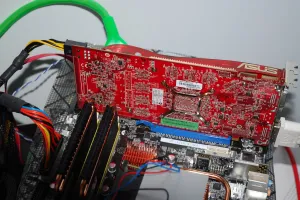 We had compared the performance of the Radeon HD 3850 and Radeon HD 3870 to the ASUS Radeon HD 2600PRO 256MB and Sapphire Radeon HD 2900XT 512MB. These benchmarks are our initial Radeon HD 3850/3870 Linux tests. You can be certain that we will be delivering more benchmarks in the near future, including tests to the comparable NVIDIA GeForce 8 graphics cards. We plan to publish these extra benchmarks once Catalyst 7.12 is publicly released as well as the stable version of the NVIDIA 169.04 beta driver.
The benchmarks used for these initial tests included Quake 4 and Enemy Territory: Quake Wars, which both have native Linux clients. The ATI Linux driver currently doesn't support OverDrive functionality or any other manual overclocking capabilities (though that could change), so the EAH3850 TOP and EAH3870 TOP were just running at their factory overclocked speeds.