We Rely On Your Support: Did you know that the hundreds of articles written on Phoronix each month are mostly authored by one individual working insane hours? Phoronix.com doesn't have a whole news room with unlimited resources and relies upon people reading our content without blocking ads and alternatively by people subscribing to Phoronix Premium for our ad-free service with other extra features. You can also consider a tip via PayPal.
PC Doctor Diagnostic Test Kit
The PC Doctor multi-purpose USB device is really nothing more than a 128MB USB flash drive with LED indicators. Loaded up on the flash drive are just several Windows binaries with DR-DOS that will run a series of tests and via the LEDs will indicate whether the device is idle and the results from the tests. If booting from this USB drive, you are presented with the same bootable software found on the PC Doctor DVD (screenshots can be found on the previous page).
A USB 2.0 flash drive is also included with this kit, just in case you need it for creating small backups or other purposes.
The PC Doctor Service Center 6 is designed for accuracy, speed, ease of use, and currency for those troubleshooting computer problems. However, is it worth $400 USD? Simply put, we don't think so. If you are a full-time support technician or operate a small computer shop, the PC Doctor Service Center 6 may serve as a great product for quickly diagnosing problems with (mostly Windows-based) PCs. However, if you're just a hobbyist or Linux enthusiast, you should be able to get by with just buying a PCI POST card, a digital multimeter, and a flash drive and loading it up with SLAX or another lightweight Linux distribution that can be installed to a USB flash drive. That will certainly save you money. More information on this product can be found at the PC Doctor website.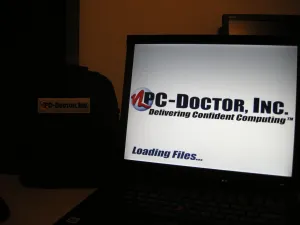 If you enjoyed this article consider joining Phoronix Premium to view this site ad-free, multi-page articles on a single page, and other benefits. PayPal tips are also graciously accepted. Thanks for your support.