Video Games & Violence Editorial
I have been an avid video game player since I was about 8 years old. My Dad took me to an arcade and I immediately fell in love with that little TV that I could make things move around on. Video games have evolved quite a bit since back then, almost like series of still photos that flash at an insane refresh rate. I feel my generation was fortunate to see a very awesome progression in technology, and with computer power evolving at the rate it does now days we get to see changes that affect society happen right before our eyes.
I remember writing a paper in school on how the clock had changed society and how it affected every day life. A similar thing happened with the invention of the light bulb, which allowed people to center their lives beyond the limitations of candles and natural light. Our parents got to experience how TV became a part of not only family life but also our society. Today we have this term Pop-culture that defines something I am sure has always been there on one way or another, but it is now something that we are even more aware of. Many of us try to escape it on one way or another, but even being Anti-Pop culture is an acknowledgment of its existence.
Video games today are part of Pop-culture. They have become in many households an everyday part of our kids lives. Many adults in my generation play video games more than a lot of children do. Video games have been blamed for making our children violent and were brought up when the Columbine massacre occured.
I am a gamer, and more so that a lot of the general population. I play both console and computer games. I lately have been going to LAN parties where groups of people hook up computers together and game for hours. Most of the games we play there are realistic military games like the Battlefield series or Call of Duty, others are fiction based FPS (First Person Shooters) like Unreal Tournament or Doom 3. The games use gore, gamers like gore. Not saying every single gamer is gore hungry but generalizing from my experience, I say that the more realistic the better.
Some of the newer games come to a level of detail that you have to shoot the characters at specific locations to be efficient. A headshot in most games is something you want to achieve to not only save your ammunition but also to quickly frag (kill) your opponent. The main objective on most FPS games is to, well kill everyone on the opposing team.
The United States Army provides a first person shooter that is completely free to download and play online. It is a very good game, I have played it and even though it might not be up to par with some of the retail games, it is available for everyone with the computer to handle. I have a couple of friends that are not totally into gaming and buying the latest FPS, but play Americas Army and love it.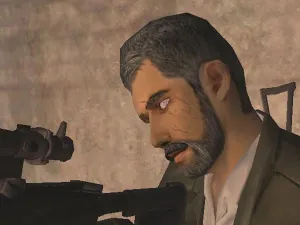 I personally enjoy all these games quite a bit. The gore is not a necessity for me to enjoy a game but I do not mind it either. The realism is something that I do like, characters looking very life like and the physics of movement being so accurate. Games that reenact military combat are on my favorite list. I do not think that games have made me a violent person, but I do believe that they have affected me in some ways.
When the war started and we were getting constant footage from it on CNN, to me it looked more like a video game than real life. I was reminded of that again today when I clicked on this link. No it is not Half-Life 2, one of the most anticipated games of the year, but an actual photo. When I saw the picture and before I read anything in the article, the first thing that came to mind is "Wow! Those graphics are awesome". Then I started to realize just from looking at the picture closer that it was a real life photo.
I have already said how I do not blame games for making anyone violent or commit crimes, but I do believe that in me they have changed something. I am not going as far as saying that they have completely desensitized me but I do think that my brain goes for fiction before reality. A fiction that was provided to me by the hours of video game playing I have done. Now my question to you is; what do you think? Do video games make people more prone to violence? Did you look at that picture and thought it was a game?