Thermaltake DuOrb CL-G0102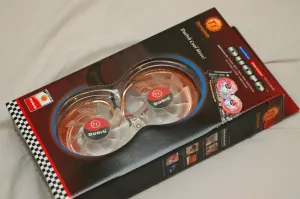 For enthusiasts, stock coolers just never cut it. Period. It doesn't matter whether it's a video card, a CPU, a motherboard chipset, or anything that puts out a decent amount of heat. After-market heatsinks and other cooling solutions have become a huge market. One of the bigger cooling issues these days is graphics cards. Even the big beefy coolers you see on the GeForce 8800 series rarely perform as well as they look. Many times the performance can be radically improved simply by removing all of the thermal paste and using a compound like Arctic Silver 5 and ensuring good contact with the GPU, but sometimes not. This is where Thermaltake steps up to the plate. Their newest incarnation of GPU cooler is the DuOrb CL-G0102, but does it perform well?
Features:
· Universal Design for nVIDIA & ATI VGA card
· Innovative Dual-Orb patented design
· All copper structure: copper base & copper Fin provided maximum cooling performance
· Scurve fan blade design and 6-LED lights
· Maximum cooling efficiency for quietness
· NVIDIA 8800 / ATI X1800/1900/1950 support
· 23.8 CFM
· 324 grams
Contents:
The Thermaltake DuOrb had shipped with an instruction manual, the GPU Cooler itself, 13 aluminum heatsinks (for the video memory), 4 VRM heatsinks (intended for the NVIDIA GeForce 8800 series), and miscellaneous mounting hardware.