We Rely On Your Support: Did you know that the hundreds of articles written on Phoronix each month are mostly authored by one individual working insane hours? Phoronix.com doesn't have a whole news room with unlimited resources and relies upon people reading our content without blocking ads and alternatively by people subscribing to Phoronix Premium for our ad-free service with other extra features. You can also consider a tip via PayPal.
Thermaltake iXoft Notebook Cooling Pad
Performance:
We had tested the Thermaltake iXoft with an Ubuntu 7.10-loaded IBM ThinkPad T42 that uses a Pentium M processor with Intel's Enhanced SpeedStep Technology. The iXoft was tested by monitoring the temperature of the CPU under load for approximately one hour when the notebook was using the Thermaltake iXoft cooler and then again when it was just sitting on a desk. When the iXoft was in use, the CPU temperature had dropped by approximately 4°C. Unfortunately, we were unable to monitor the GPU or hard drive temperatures due to a lack of Linux hardware monitoring utilities compatible with the IBM/Lenovo ThinkPad series.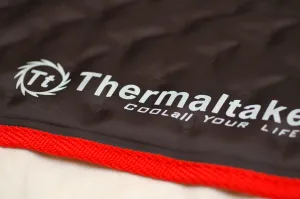 Conclusion:
The results were fairly nice for the Thermaltake iXoft Notebook Cooling Pad. The entire bottom of the laptop was also significantly cooler after using the iXoft for a while. The improvement overall was very good for a passive cooling pad. Air coolers we have used in the past yielded results not much better than this, so we were very pleased. The iXoft also has the added benefit of using no USB power and producing no noise. At around $29.99 USD this is a cheap, but very effective way to cool your laptop, and we highly recommend it for those looking to find a reliable notebook cooler.
If you enjoyed this article consider joining Phoronix Premium to view this site ad-free, multi-page articles on a single page, and other benefits. PayPal tips are also graciously accepted. Thanks for your support.