We Rely On Your Support: If you would like to support Phoronix this autumn during these challenging times, you can enjoy our "Oktoberfest" sale... Phoronix Premium is available at a discounted rate for the rest of September. Learn more with the the 2021 Oktoberfest special.
Intel Celeron processors have long been known for being a "budget processor" and lacking the abilities to compete with other processors mainly due to the lack of L2 cache. In recent months, Intel has been redesigning their budget processors and has created the Celeron D line of processors, similar to AMD and their Sempron line. The new Celeron D series encompasses twice the amount of L2 cache over the original Celerons and now boasts a Prescott core. However, are these improvements enough to make you consider the Celeron D's in your next low-end PC purchase?
Features:
Model:
Intel Celeron D
Core:
Prescott
Operating Frequency:
2.40GHz
FSB:
533MHz
Cache:
L1/12K+16K; L2/256K
Process:
90 nm
Socket:
Socket 478
Multimedia Instruction:
MMX, SSE, SSE2, & SSE3
· Data Flow Analysis
· Speculative Execution
· Non-Blocking Level 1 Cache
· Streaming SIMD Extensions 3
· Dual Independent Bus (DIB)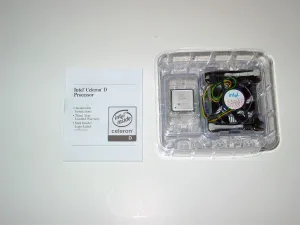 With Intel implementing their new naming scheme, this processor is simply no longer named a 2.4GHz Celeron D, but a Celeron D 320. Six different processors currently compose the "D" line of processors, which include the 315 (2.26GHz), 320 (2.40GHz), 325 (2.53GHz), 330 (2.66GHz), 335 (2.80GHz), and 340 (2.93GHz). These new names are based upon the architecture, clock speed, cache, Front Side Bus, and future Intel technologies, since Intel is jumping off the megahertz rush and is focusing more upon the different features. Below is a chart comparing the Intel Celeron D against the Socket 478 traditional Celeron, Pentium 4 "A", Pentium 4 "C" (Northwood), and Pentium 4 "E" (Prescott).