We Rely On Your Support: Have you heard of Phoronix Premium? It's what complements advertisements on this site for our premium ad-free service. For as little as $3 USD per month, you can help support our site while the funds generated allow us to keep doing Linux hardware reviews, performance benchmarking, maintain our community forums, and much more. You can also consider a tip via PayPal.
BIOS
ASRock continues to use an American Megatrends BIOS with the version we were using was 4Core1333-Viiv M0.11C. Like the other ASRock motherboards we have come across, this BIOS was no different when it came to the limited overclocking features and just the basic options you would expect to find.
Performance
We have tested many Intel 965 motherboards at Phoronix since its introduction last year. Some motherboards have had a JMicron ASIC that has caused a number of Linux complaints, but overall, its support under Linux and in Solaris has been reliable. We had tested the ASRock 4Core1333-Viiv in Ubuntu 7.04 Feisty Fawn, Ubuntu 7.10 Gutsy Gibbon, and Fedora 7, and in these desktop Linux distributions we have't run into any problems. This motherboard had worked "out of the box" with working audio, LAN, and Firewire.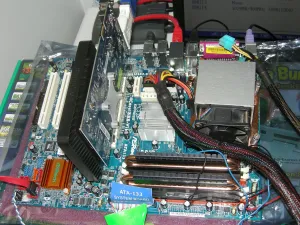 The hardware we had used for benchmarking included 2GB of OCZ Reaper HPC DDR2-800 memory, Gigabyte GeForce 8600GT 256MB graphics card, Intel Core 2 Duo E6400, SeaSonic 750W Zeus power supply, and 200GB Seagate hard drive. On the software side we had used Fedora 7 with the Linux 2.6.22.4 kernel and benchmarks consisted of Enemy Territory, Quake 4, LAME compilation, LAME encoding, timed disk reads, Gzip Compression, and RAMspeed. We had compared the P965-based 4Core1333-Viiv to Gigabyte's GA-P31-DS3L, which uses Intel's P31 Chipset with the ICH7.