Board Layout:
As you can see, Gigabyte has gone to great lengths to protect the golden tower they erected in the middle of the board. There is a massive piece of foam inserted to prevent things from pressing down on it during shipment. On the board you will find eight SATA ports. There are also 12 USB ports on this board! There are eight via internal connectors and four externally available. The layout is nice. Even with the massive golden tower, it could handle the Thermalright Ultra-120 Extreme heatsink. The heatpipes barely touch, so it was a close one.
Intel's P35 and ICH9R Chipset power the Gigabyte GA-P35-DS3P. The P35 provides support for Intel Core 2 Duo and Intel Core 2 Quad (including 45nm processors), PCI Express x16 graphics support, DDR2 and DDR3 support (in the case of this Gigabyte motherboard DDR2 is used). The ICH9R provides support for 12 USB 2.0 ports, six PCI Express x1 ports, Gigabit LAN support, Intel High Definition Audio, Intel Quiet System Technology, six Serial ATA 2.0 ports, Intel Matrix Storage Technology, and Intel Turbo Memory support.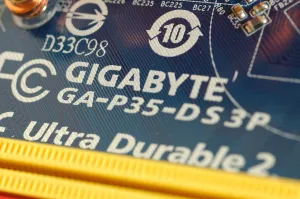 The four DDR2-1066 memory slots run vertically along the right hand side of the ATX motherboard and positioned between these system memory slots and the edge of the PCB is the 24-pin ATX power connector and FDD power connector. There is also a 4-pin molex connector next to the 24-pin power connector, for use if you don't have an 8-pin ATX12V power connector on your power supply. In the lower right hand corner of the motherboard is the Intel ICH9R with a passive heatsink, eight Serial ATA 2.0 ports, one IDE port, four USB 2.0 headers, and a variety of other components. The expansion slots on the Gigabyte motherboard include two PCI Express x16, two PCI Express x1, and two PCI slots. While there is no ATI MultiGPU support under Linux, the Gigabyte GA-P35-DS3P does support ATI CrossFire technology.