We Rely On Your Support: This site is primarily supported by advertisements.

Ads are what have allowed this site to be maintained for the past 16 years.

We do our best to ensure only clean, relevant ads are shown, when any nasty ads are detected, we work to remove them ASAP. If you would like to view the site without ads while still supporting our work, please consider our ad-free Phoronix Premium. You can also consider a tip via PayPal.
PC Power & Cooling Silencer 750W
When you say "good power supply" to newbies, most just look at the wattage and buy the biggest wattage power supply for the cheapest price. This is a costly mistake. Slightly more experienced users will look for brands like Antec, Thermaltake, Enermax, etc. These are very reliable and perform well enough for most users. However, seasoned enthusiasts and overclockers know that few companies match up to the name PC Power & Cooling. The quality of their units has been legendary and the units are highly coveted components. Earlier this year OCZ Technology, a leading memory manufacturer with products we frequently review here at Phoronix, had acquired PC Power & Cooling. One of the products to come out recently since then has been the PC Power & Cooling Silencer 750W power supply. The PC Power & Cooling Silencer 750W has a massive 60A single rail (similar to the SilverStone Olympia OP650) and four PCI-E connectors. It is ATI Crossfire certified and the Crossfire Edition refers to its bright red paint job.
Features:
· 750W Continuous @ 40C (825W Peak)
· Up to 90% (10dB) Less Noise per Watt
· ATI CrossFire Certified (HD 2900XT)
· High Efficiency (83%); .99 Active PFC
· +12VDC @ 60A (Powerful Single Rail)
· Rock-Solid, Super-Clean DC Output
· 24-pin, 8-pin, 4-pin M/B Connectors
· Quad PCI-E and 15 Drive Connectors
· Automatic Fan Speed Control Circuit
· 3-Year Warranty and Tech Support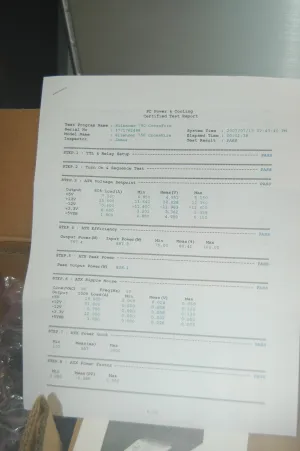 Contents:
Included with the PC Power & Cooling 750W Silencer was a manual, 14 AWG power cable, and the power supply itself. This is all pretty standard except for the power cable. Most power supplies only come with an 18AWG power cable where as the PC Power & Cooling is 14 AWG. What does this mean? Theoretically it provides lower voltage drop through the cable and less noise due to the lower resistance per 1000 ft. In fact 14AWG (2.5 ohms/1000ft) has less than half of the resistance of the 18AWG (6.3 ohms/1000ft). Now whether or not it makes a difference is debatable. In particular, it has been a hot topic amongst audiophiles.