Sun's Check Tool: Does Your Hardware Work?
After the results are listed, there are two options: copy reports to USB or reboot the system. When copying the reports to a USB storage medium, Check Tool automatically finds any detected disks with a valid partition and packages all of the results in a tar file. The results tar file contains a text file with the same information that was displayed on the screen, an HTML version of the report, and the output of prtconf and prtdiag with different arguments. Below are a few examples of the reports off some of our different test systems.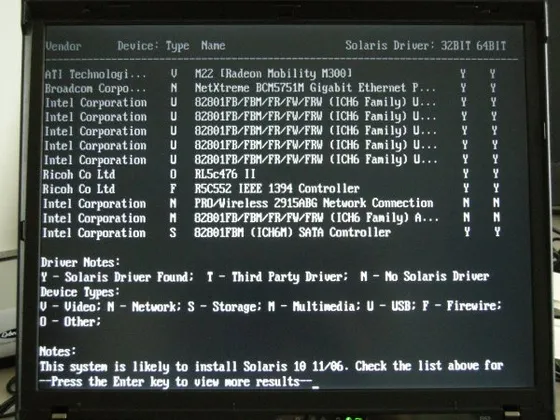 As we mentioned earlier, the Check Tool is not perfect. For instance, ATI/AMD currently doesn't offer any binary display drivers for Solaris with NVIDIA being the main provider in Solaris systems. However, when it came to probing an ATI Radeon X1950PRO, it was detected as an ATI Technologies unknown device, but Solaris drivers were reported for both Solaris 32-bit and 64-bit. This isn't the case, well not yet at least.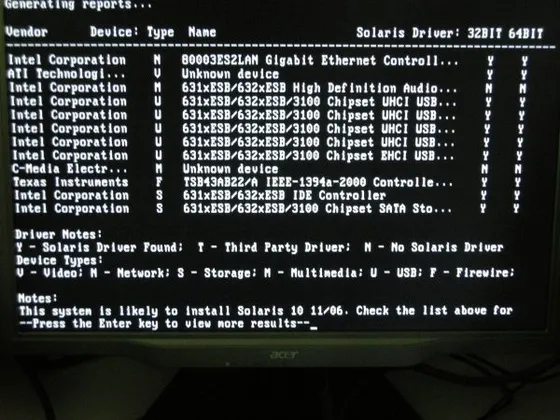 We were also made aware by Sun that they are working on USB probing of hardware devices to inform the user as to whether their USB peripherals (i.e. printers, digital cameras, and web cameras) will work with Solaris. Sun is also in the process of making Check Tool an OpenSolaris community project. This tool is not perfect and will not tell you if any special configurations are needed or if the Solaris driver contains only limited functionality for instance, but this is a quick and very easy way to figure out if your hardware stands a chance with Solaris. Stay tuned for additional Solaris articles in the coming weeks.
You can discuss this article in the Phoronix Forums.
If you enjoyed this article consider joining Phoronix Premium to view this site ad-free, multi-page articles on a single page, and other benefits. PayPal tips are also graciously accepted. Thanks for your support.