The motherboard we are using for today's Intel Core 2 Duo E6400 benchmarking is the ASUS P5N-E SLI. This motherboard will be featured in an upcoming Phoronix review, but it uses NVIDIA's nForce 650i SLI Chipset, supports NVIDIA's Scalable Link Interface, and comes with a number of ASUS innovations we have been accustom to seeing on their other enthusiast motherboards.
The RAM we had used was OCZ's Flex XLC PC2-9200 memory, which we had originally featured in Overclocking, The Natural Way. The other components include the NVIDIA GeForce 7800GTX 256MB, SilverStone's 750W Zeus, and a Western Digital 160GB SATA 2.0 hard drive. Running with Fedora 7 Test 4 (x86_64) was the Linux 2.6.21-1.3116 kernel, GCC 4.1.2, and X.Org 1.3.0 RC 5.
With the Core 2 Duo E6400 currently representing Intel's $200 USD processor, for comparison we had also used the Intel Pentium D processor that had once represented the same price point. This processor is the Pentium D 820 "Smithfield", which has an operating frequency of 2.80GHz, 1MB of L2 cache per core, and an 800MHz FSB.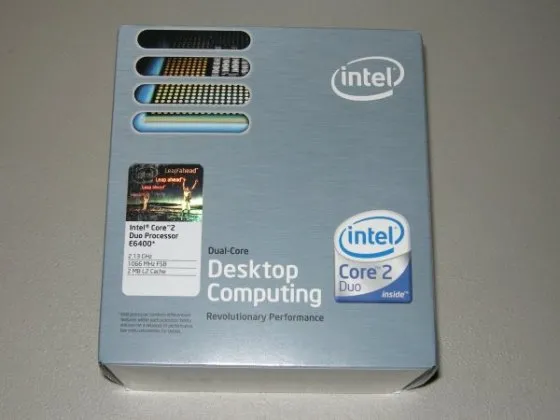 As far as overclocking goes, we had pushed the Intel Core 2 Duo E6400 with the ASUS P5N-E SLI to 2.80GHz (the E6400 could have gone much further if it were not for the air-cooling). We had also run our tests while the E6400 was clocked with a 1200MHz front side bus, which resulted in the process running at 2.40GHz (equivalent to the Core 2 Duo E6600). Benchmarks used for this article were Enemy Territory, Quake 4, LAME compilation, LAME encoding, kernel compilation, FreeBench, and RAMspeed.