Mushkin HP-580AP Enhanced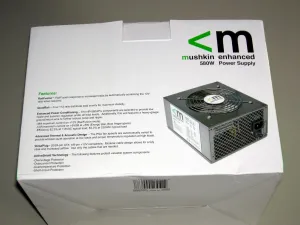 During our natural sub-zero overclocking event this past winter (as detailed in Overclocking, The Natural Way) we had chose to use the Mushkin HP-580AP power supply. The Intel processor was running 133% of its rated speed, and through the entire process the power supply was providing clean and stable voltages when monitoring the rails with multiple digital multimeters. However, now we are going back to look at this Mushkin power supply and provide some additional thoughts on this 580 Watt quad-rail modular PSU.
Features:
· Active PFC
· High Efficiency
· Advanced Thermal/Acoustic Design
· Mushkin RailFusion
· Power Conditioning
· Quad Rail
· VersaPlug
Contents:
The Mushkin HP-580AP was wrapped in bubble wrap and all contents were packaged individually while sitting inside Mushkin's green and white cardboard box. Included with the HP-580AP were the modular cables, a US power cable, and cable management accessories. While Mushkin is known for their system memory, they have also been producing power supplies that are designed for high performance PCs. Their current models are the XP-650, HP-550, and HP-580AP.