We Rely On Your Support: Did you know that you can get Phoronix Premium for under $3 per month? Try it today to view our site

ad-free, multi-page articles on a single page, and more

while the proceeds allow us to write more Linux hardware reviews.
Fedora 7 KVM Virtualization How-To
While not wise for most systems, we had no troubles running multiple virtual machines simultaneously. Thanks to dual Intel Xeon Clovertown processors and plenty of RAM, there were no problems administrating and installing three virtual machines simultaneously. In fact, the system could have easily handled many more machines running in tandem.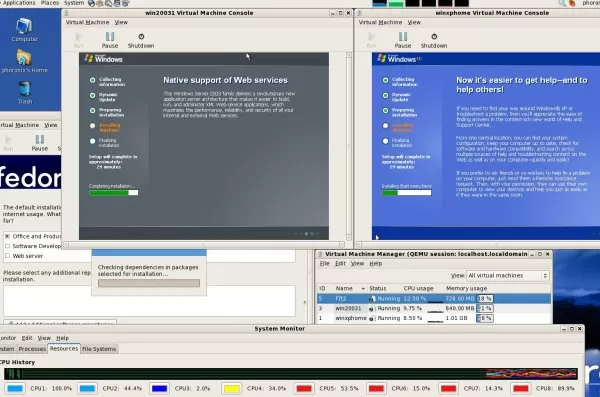 When it comes to the virtualization possibilities with Fedora 7, developers have hit the head on the nail. The virt-manager and libvirt improvements to allow for QEMU and KVM are phenomenal! We have truly been blown away by the integration of QEMU/KVM in Fedora 7, and are very excited to see how everything will come together in time for its May release. Fedora 7 has the best possibilities for KVM virtualization that we have seen from all Linux distributions to date. We had run into no problems during the virtualization process and are extremely pleased with what we had seen today.
If you run into any problems with virtualization on Fedora 7 or KVM in general, be sure to stop by the Phoronix Forums.
If you enjoyed this article consider joining Phoronix Premium to view this site ad-free, multi-page articles on a single page, and other benefits. PayPal tips are also graciously accepted. Thanks for your support.