Intel GMA 3000 Q965 Graphics Performance
For delivering our GMA 3000 performance results we had used the Intel DQ965GFEKR motherboard. This micro ATX motherboard is backed by the iQ965 Express + ICH8 Chipset. Other than the GMA 3000 IGP, this Chipset supports the Intel Core 2 Duo processor (as well as compatibility with the LGA-775 Pentium and Celeron parts), DDR2, PCI Express x16, Intel High Definition (HD) audio, six Serial ATA 2.0 ports, Intel Gigabit LAN, Intel Matrix Storage Technology, and 10 USB 2.0 ports. According to Intel's documentation this executive series motherboard is designed for small and large businesses. Below is the run-down of system components used during testing.
Hardware Components
Processor:
Intel Pentium D 820
Motherboard:
Intel DQ965GFEKR (Q965)
Memory:
2 x 512MB Crucial Ballistix DDR2-800
Graphics Card:
Intel GMA 3000
ATI Radeon X300SE 128MB
Hard Drives:
2 x Seagate Barracuda 7200.10 320GB
Case:
SilverStone Milo ML01
Power Supply:
SilverStone 300W
Software Components
Operating System:
Fedora Core 6
Linux Kernel:
2.6.18 SMP (x86_64)
GCC:
4.1.1
X.Org:
7.1.1
Fedora Core 6 was used as the GNU/Linux distribution, with all Rawhide updates as of October 18, 2006. For comparing the performance of the GMA 3000 we had also benchmarked an ATI Radeon X300SE 128MB using the open-source R300 display drivers. This is not a complete comparison as we did not compare them against the GMA900 and GMA950, which under Microsoft Windows with the current drivers have outperformed the GMA 3000 family according to several reports. The intent of this article is to provide an insight as to what GMA 3000 users can expect to see performance-wise under GNU/Linux. We will be delivering additional GMA 3000 and X3000 articles in the future. The i965 GMA 3000 hardware supports the X-Video (xv) extensions through using TexturedVideo, which is similar to ATI's fglrx TexturedVideo implementation. Enabling TexturedVideo will allow the 3D hardware during video playback. These Intel open-source drivers fully support Compiz / Beryl as well as AIGLX. DriConf is available for configuring various user display options.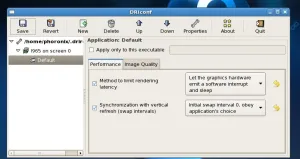 Now, finally onto the performance... Like our recent ATI R300 open and closed driver performance article, we turned to Enemy Territory (v2.60) with the Railgun demo while running the game at stock settings with various resolutions. We also used the legacy Unreal Tournament 2003 Demo with the standard benchmarking scripts. The resolution used for Unreal Tournament testing was 800 x 600. We had also used GL O.B.S. (GL Open Benchmark Suite) for running additional benchmarks. We had used GL O.B.S. v0.1 and the resolution used for the tests was 640 x 480.
When communicating with Keith Packard about the open-source Intel display drivers he had stated that right now there are currently no performance-tuning options available, as the driver is still undergoing significant development. Packard had mentioned that many performance improvements will be taking place from low-level chip optimizations to improving the quality of the Mesa project.