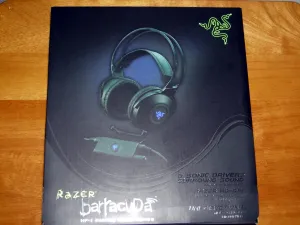 Since the inception of the Boomslang in the late 90's, Razer has been continuing to push the envelope of input technology for gamers. The Boomslang had premiered with a 2000DPI engine, which was unprecedented at the time, and Razer continued their engineering success into the Viper, Diamondback, Copperhead, and Krait. Razer hasn't stopped there in attempting to provide the ultimate experience for computer gamers, as their most recent expansion leads them to developing audio devices. The Barracuda HP-1 is Razer's first attempt at delivering high-end listening headphones. The Razer Barracuda HP-1 Gaming Headphones rely upon eight drivers, individual channel volume control, and a detachable microphone to deliver the ultimate audio experience while gaming.
Features:
· 8 Discrete Drivers: 6 for Mid-High Frequency, 2 for Bass
· Individual Channel Volume Control / 1 Master Volume Control
· Detachable Microphone
· 6 Channel Analog Inputs
· Eight Amplifiers contained within its volume control units
· Output power of 330mW
· Razer HD-DAI\u2122 (High Definition-Dedicated Audio Interface)
· 99% Oxygen-Free Cable
Contents:
With the Barracuda HP-1 being Razer's first attempt at creating audio products, we were a bit uncertain what to expect when receiving this product. After opening up the packaging we were left with a certificate of authenticity, Barracuda quick start guide, and the actual HP-1 headphones. The design of the packaging allows the headphones to be viewed by opening the front flap on the box, which is secured by Velcro.