CaseBuy LCD EZ Power Supply Tester 3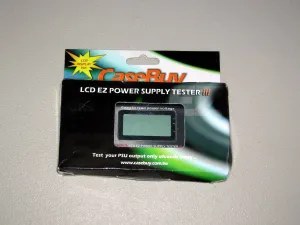 In the past at Phoronix we had looked at the EZ Power Supply Tester and EZ Power Supply Tester 2 from CaseBuy. Both revisions were able to detect whether a power supply was active or not by the LEDs indicating the Voltage rails. One of the areas, however, that we had marked the EZ Power Supply Testers down for in the past was the inability to specifically show the exact Voltage of the connected power supply. CaseBuy hopes to have addressed this problem by placing an LCD display on the front of the unit, which indicates the various Voltages down to a tenth of a Volt. We at Phoronix have thoroughly analyzed the CaseBuy LCD EZ power Supply Tester 3, and have our results to report today.
Features:
· Easy to check ATX power supply
· Aluminum case
· Accurate voltage indicator (+/- 0.1V)
· ATX P.G. value display
· Lower or higher P.G. values alarm
· ATX PSU each output connectors check
· Lower voltage detected alarm
· Over-voltage detected alarm
· No voltage detected alarm
Contents:
Receiving the product from Taiwan, it arrived here in the United States slightly banged up but luckily the tester was not damaged in the shipping process. As of writing, this product has yet to appear on the CaseBuy website and is not yet available in the various online stores, but the product should be arriving shortly. Included with the CaseBuy LCD EZ Power Supply Tester 3 was a small pamphlet that contained the testing procedures and features.