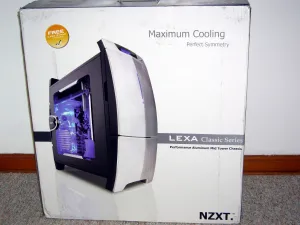 Taking a break from our usual hardware roundabout during Computex Taipei 2006, we took this opportunity to look at one of NZXT's latest creations. The NZXT product up on the review block this afternoon is the Lexa, which coincidently we had privately previewed during Computex last year. The NZXT Lexa is designed to be an ultra-light aluminum mid-tower. While the chassis is lightweight, it does boast a rugged design and even includes a carrying strap for easy transportation. Will the Lexa set the new precedence of classy ATX cases?
Features:
· Screwless installation
· Ultra light aluminum chassis (5.8kg)
· Stealthed clear side panel (optional)
· Three temperature display meter
· Reflective metallic painted front panel
· Glossy piano black finish
· Low noise 1100 rpm fans
· Removable dust filters for dust prevention
· Included carrying strap
· Cable organization via rear cage
· External ports: 2 x usb 2.0, mic, ieee 1394/firewire
· Headphone jack
Contents:
Back in 2004 was our initial look at NZXT when they had presented to us their first creation dubbed the Guardian, which was the result of Johnny H. Since that first case, they have nailed down almost all of the fine product details, including the product packaging. We had received the NZXT Lexa in pristine condition. Surrounding the chassis was a heavy-gauge plastic bag as well as Styrofoam on both ends. Included with the mid-tower ATX chassis was the accessory box, product manual, and carrying strap. While the carrying strap is not as elaborate as the CaseAce GearGrip or the various other products focused for the LAN partygoers, it adequately fits the chassis as well as does a reliable job at protecting the side-panel window from being damaged.