NVIDIA 1.0-8762 Display Drivers
After being quiet for nearly two months since release their relatively nonchalant 1.0-8756 drivers, NVIDIA has come out this afternoon and released the NVIDIA 1.0-8762 Linux display drivers. Contained in this release are a few fixes and new product support. Here at Phoronix we have taken a quick look at some of the changes. While we normally would have a full article examining these newly released drivers, as well as new in-house performance numbers, NVIDIA had caught us off guard and had provided no notice until after they were released. With that said, we are also in the process of finalizing articles for posting in the coming days to correspond with some of the new hardware launches this year at Computex Taipei. ATI will also be releasing their new Linux display drivers soon.
With the Linux x86 and x86_64 drivers, NVIDIA has appended ten release highlights to their Linux drivers with the 1.0-8762 release. Product support in their alternative OS drivers has been added for the Quadro FX4500X2, FX5500, FX3500, and FX1500. There is also improved Quadro FX3450/4000 SDI support. The other GPU related fix in this release is for reporting the video memory with the GeForce 6200 Turbo Cache.
Next up in NVIDIA's 1.0-8762 release is fixing another existing problem with Overlay support when in TwinView mode. With TwinView, NVIDIA engineers have corrected a system crash with X when using the multi-head mode on certain GPUs. Onto more items in this largely bug-fix release, an issue was addressed with mode selection for CRTs and DFPs. While NVIDIA has yet to improve their largely rudimentary Scalable Link Interface support, they have corrected yet another SLI Frame Rendering problem that occurred on some nForce 4 SLI Intel Chipsets. The only other SLI-oriented fix was involving multiple issues when using combinations of Stereo, SLI, Frame Rendering, and G-Sync. A corruption problem with Rotation and large desktops on older GPUs, including the GeForce 4 MX, was also corrected. Finally, a NV-CONTROL compatibility issue was addressed.
The Solaris x86 and FreeBSD drivers have also been updated to the 1.0-8762 drivers. The Solaris drivers contain nearly the same changes as the Linux drivers, while the FreeBSD drivers continue to lack the Scalable Link Interface (SLI) support.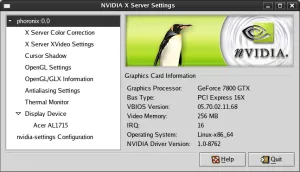 As can be seen from our elaborated release notes, there really isn't much in the way of new features in this release other than correcting several bugs and appending new GeForce Quadro FX support on some cards. NVIDIA has made some minor corrections with Scalable Link Interface in this release, and we will investigate accordingly, but right now, it is relatively safe to assume no major strides have been put fourth in this Linux multi-GPU area. With the issues addressed in this release, they should benefit some users, but with this being a maintenance release, there is not anything worth fraternizing over. There has been some news of the ForceWare Rel90 series drivers containing a redesigned control panel and other factors, but to this point, our sources have not commented on what the Linux/Solaris/FreeBSD drivers could hold in store.
While we do not have the performance numbers to deliver today, we will be investigating the changes in this release with multiple configurations, and if anything interesting does come along, we will be sure to pass it along. With NVIDIA seeming to continue in their elongated release cycles, we likely will not see any new Linux drivers until the August or September period.
If you enjoyed this article consider joining Phoronix Premium to view this site ad-free, multi-page articles on a single page, and other benefits. PayPal tips are also graciously accepted. Thanks for your support.