We Rely On Your Support: Did you know that you can get Phoronix Premium for under $3 per month? Try it today to view our site

ad-free, multi-page articles on a single page, and more

while the proceeds allow us to write more Linux hardware reviews.
SilverStone Zeus ST75ZF 750W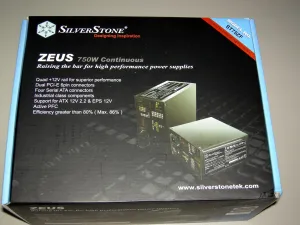 Since PCI Express x16 has been in existence that allows NVIDIA's Scalable Link Interface and ATI's CrossFire to coexist, there has been a growing need for suitable power supplies. NVIDIA's new Quad SLI has also caused a greater power roar, now needing to provide enough power for four high-performance GPUs. According to NVIDIA's SLI Zone, for a dual GeForce 7800GTX or 7900GTX system, a 500W or 600W [email protected] is needed to feed the various PC components. Accompanying the increased power consumption from the graphics cards have been the power-hungry Intel Pentium D and AMD Athlon 64 X2 dual-core processors. On top of the growing Wattage needs, there always remains the demand for a stable and reliable power supply to prevent any power issues down the road. With present day computing, a high-quality power supply is not an option but a necessity. While a one horsepower PSU may seem overkill for a traditional desktop computer system, SilverStone Technology has come to the table with a new power supply designed to provide a continuous 750W. The PC Power & Cooling Turbo-Cool 1KW PSU does surpass the ST75ZF in terms of Wattage, but the Zeus product wins in the number of +12V rails. The Zeus ST75ZF boasts quad +12V rails, active PFC, and SLI & CrossFire compatibility. In total the SilverStone product provides 72 Amps on the combined +12V rails.
Features:
· Quad +12V rail for superior performance
· Dual PCI-E 6pin connectors (SLI & CrossFire ready)
· Industrial class components
· Support for ATX 12V 2.2 & EPS12V
· Active PFC
· Efficiency greater than 80% (maximum 86%)
Contents:
When receiving the package that had contained the SilverStone Zeus ST75ZF, we were quite in awe at the size and weight of the product. One of the widely accepted methods for quickly determining the physical quality of a PSU is its weight. Those power supplies that generally use high-end or industrial class components noticeably weight more than those of inferior quality. The SilverStone retail packaging was also noticeably larger in size than what we had seen when receiving the Strider ST405 400W and Strider ST56F 560W. Even with these changes, the color scheme and external appearance of the product packaging was SilverStone's de facto standard. Opening up the container, blocks of Styrofoam were used to protect the power supply unit itself and the related supplies. The Zeus PSU itself was encased inside of a bag and the power cables were wrapped within bubble wrap. Beyond the ST75ZF were a product manual, quad VGA card support sheet, US 120V power cable, bag of screws and zip ties, and three cable adapters. These adapters had consisted of a two 4-pin molex to 6-pin PCI Express, 8-pin +12V motherboard to 4-pin +12V, and a 6-pin auxiliary to PCI Express x16 connection. Using both the two 6-pin PCI-E adapters, and the two PCI-E cables themselves, the SilverStone Zeus ST75ZF is capable of powering four graphics cards.