We Rely On Your Support: This site is primarily supported by advertisements.

Ads are what have allowed this site to be maintained for the past 14 years.

We do our best to ensure only clean, relevant ads are shown, when any nasty ads are detected, we work to remove them ASAP. If you would like to view the site without ads while still supporting our work, please consider our ad-free Phoronix Premium. You can also consider a tip via PayPal.
Transgaming Cedega v5.1 + ATI
February this year had marked the Transgaming Cedega v5.1 release. This release had appended support for several new games (Civilization 4, FIFA 2006, and Need for Speed Most Wanted) as well as offering several game enhancements, a new user-interface, and copy protection improvements. For those that are not familiar with Cedega and Transgaming, here is an explanation from our previous Cedega v5.1 article:
For the uninformed, Cedega allows hundreds of Microsoft Windows engineered games to run on Linux seamlessly with very little end-user modifications required. Some of the supported games range from Battlefield 2 to World of War Craft, and Madden 2006. Cedega is similar to Code Weaver's CrossOver Office and WINE except is specialized for use with games. Cedega works by directly loading a Windows program into the memory on a Linux system and linking it to a Linux-optimized version of the Windows 32 APIs. Cedega is geared for use with the Windows APIs as well as Direct3D, DirectInput, and DirectSound, which in turn is powered by OpenGL, X11, OSS, and ALSA interfaces. In addition to TransGaming's Cedega, they are developing alternative products for the Sony PlayStation 2 and PlayStation Portable as well as the Microsoft Xbox and a portability technology to allow PC source-code to run across the Macintosh OS X platform.
Our original intentions with this article were to deliver Radeon X1000 benchmarks using Windows games running under Cedega, however, due to the ATI difficulties we were faced with when using Cedega, we have changed our sights, and in this article, we are now simply sharing a few comments in regards to the ATI and Cedega status. Upon any updated ATI proprietary drivers that address these Cedega issues, or upon Transgaming releasing an update that bypasses some of the information we are about to discuss, we will proceed with our complete benchmarking selection. Rather than using the Cedega 14-day demo available from the Transgaming website, for this article we had used the retail version. The retail version of Cedega is available at $55.00 USD annually or $5.00 USD per month.
Setting up Cedega, we had loaded it on a system with an ATI Radeon X1800XL 256MB and were running Fedora Core 4 with the 2.6.15 kernel. The Cedega version used during testing was v5.1.3. Over the original v5.1.0 release, the first minor patch had addressed World of Warcraft, EVE-Online, and Star Wars Galaxies issues, while the other patches were meant to address World of Warcraft v1.10 issues.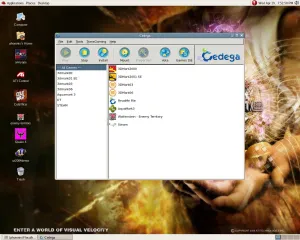 When it comes to the Cedega v5.1.3 release notes, Transgaming recommends at least an ATI Radeon 8500 card with the proprietary Linux display drivers. The Windows games that are known not to work with the present version of Cedega and ATI/DRI drivers are Battlefield 2, Dungeon Siege II, Far Cry, FIFA 06, Grand Theft Auto III, Grand Theft Auto: Vice City, Madden NFL 2005, Madden NFL 2006, Need for Speed Underground and Sacrifice. Battlefield 1942 and Battlefield Vietnam also have ATI Linux issues; however, work-arounds are available for achieving playability. Hitman Contracts, Battlefield 1942, and Battlefield Vietnam experience graphical corruption caused by ARB_vertex_program. World of Warcraft on the other hand does have some known issues with ARB_fragment_program.
Part of the issue with the ATI cards and Cedega is that ATI cards with the current drivers only support the VBO extensions, while NVIDIA cards support both VAR and VBO extension abilities. There is also a known issue with ATI and x86_64 Linux distributions. The 64-bit ATI issue can be easily corrected by correctly setting the LIBGL_DRIVERS_PATH variable.
In our tests using the ATI Radeon X1800XL and Cedega, some of the games listed in the release notes had operated fine while in other games there were incredibly slowdowns or stability issues. We are continuing to investigate Cedega's performance on ATI Radeon cards powered by the proprietary Linux drivers, as well as utilizing our contacts at both Transgaming and ATI, and upon discovering any additional pertinent information we will be sure to share. Similarly, if any readers have experiences to share when it comes to ATI and Cedega, feel free to contact us.