We Rely On Your Support: Did you know that the hundreds of articles written on Phoronix each month are mostly authored by one individual working insane hours? Phoronix.com doesn't have a whole news room with unlimited resources and relies upon people reading our content without blocking ads and alternatively by people subscribing to Phoronix Premium for our ad-free service with other extra features. You can also consider a tip via PayPal.
NVIDIA GeForce 7900GT 256MB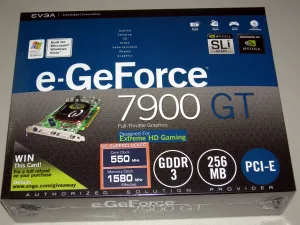 It was not long ago (November 14, 2005) that NVIDIA had reacted to the fierce competition of the ATI Radeon X1800 series by unleashing the GeForce 7800GTX 512MB, which was an upgrade to the 7800GTX 256MB that had originally premiered last summer. The 7800GTX 512MB was simply not a memory boost to the 256MB part, but had also heightened the core and memory operating frequencies, as well as a few crucial modifications. NVIDIA had also taken the route of using its Quadro FX 4500 cooler to thermally assist this raging beast. To compete, and in many instances destroy the GeForce 7800GTX 512MB, ATI had prepared its X1900 series for release earlier this year. While this battle is never ending between the red and green, both constantly push fourth new products to satisfy the growing needs of gamers and enthusiasts. Today we are embarking on yet another voyage of new product releases as CeBIT 2006 had begun this morning in Hannover Germany. While we will have a great deal of news related to the happenings at this popular computing exposition, today NVIDIA has been quick to unleash their next generation GPUs. The NVIDIA GeForce 7900 series, as they will be called, are designed to deliver stunning performance against that of the current GeForce 7 offerings as well as some fierce competition to the ATI Radeon X1000 lineup. However, what all does the new 7900 series bring to the table? We at Phoronix have been experimenting with the EVGA e-GeForce 7900GT CO SUPERCLOCKED 256MB for the past couple of days, and with the embargo now lifted we have our preview of the next-generation solutions under Linux. The GeForce 7900GT uses the G71 (G71-GT-N-A2) graphics core. Keep in mind as we begin this adventure, NVIDIA is the only manufacturer to provide the latest-and-greatest graphics card support under Linux. Since June 22, 2005 -- the 7800GTX 256MB launch date, NVIDIA has provided support for these flagship products under Linux (although the initial drivers were quite flaky), while on the side of the red we have seen no X1000 series support by their Linux drivers. As Phoronix was the only source on the matter, we are still confident that ATI will deliver a spring driver release that supports the X1000 series. While ATI Technologies has been widely criticized for this lack of support, they have certainly been working hard at providing new competition for the NVIDIA solutions, as could be seen from the driver release that had occurred yesterday (March 8, 2006) in their monthly updates. Anyhow, without further ado we present the NVIDIA GeForce 7900... This article today will serve as a preview to these upcoming graphics cards in the 7900 series, while in the coming days and weeks ahead we will also be delivering additional articles and benchmarks. We will also be providing extra coverage on additional graphical goodies beyond the GeForce 7900, but we won't spoil all of the fun today.