OCZ EL PC-4000 2GB Gold GX XTC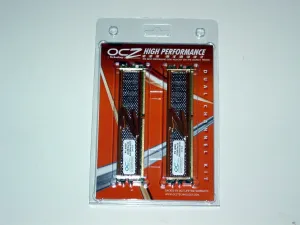 Over the past year, we have seen numerous advancements by the engineers at OCZ Technology when it comes to system memory as well as flash memory. In fact, their OCZ Rally series that was unveiled earlier this year continues to be the fastest flash media drives for read/write that we have ever seen in our labs and it even tops Corsair's Flash Voyager line-up. On the topic of system memory, in 2005 we had seen OCZ Technology jump on the 2GB (2 x 1GB) bandwagon, with the other enthusiast manufacturers, to begin pushing out modules that will better handle software this year. Of OCZ's many products to now ship in a 2 x 1024MB variety is OCZ's EL DDR PC-4000 Gold GX XTC 2GB Dual Channel kit. Of course, with the XTC tag, which stands for Xtreme Thermal Convection, OCZ's latest in memory heatspreader technology is implemented onto these Gamer eXtreme modules. Will these PC-4000 modules timed at 3-4-3-8 be able to offer a distinct advantage with its exclusive cooling design? Today we are investigating these new modules as we put them up against past OCZ's Platinum part as well as dissecting the XTC heatspreaders.
Features:
· 500MHz DDR
· CL 3-4-3-8 (CAS-TRCD-TRP-TRAS)
· Unbuffered
· Gold-Layered XTC Heatspreader
· Lifetime Warranty
· 2.75 Volts
· 184 Pin DIMM
· EVP
· ULN
Contents:
As with past OCZ modules, the DDR PC-4000 Gold GX XTC modules shipped in a plastic container with generic paper insert. The paper insert displays general information about OCZ as well as some of the awards their various system memory modules have received. Visible through the plastic sleeve are OCZ's new Xtreme Thermal Convection heatspreaders. In addition to providing the PC-4000 GX XTC part, OCZ also offers the GX XTC modules in a PC-3200 design as well as a 2 x 512MB kit. Announced last week from OCZ Technology has been the introduction of GX XTC DIMMs for DDR2 PC2-4200 and PC2-5400. In the next couple of weeks, we will be posting our PC2-5400 GX XTC results on an i955X setup.