NVIDIA GeForce 7800GTX + 1.0-7675 Driver Preview
Within a few hours, NVIDIA is expected to release their new set of display drivers (1.0-7675). Among other improvements, these new drivers should correct a majority of the problems that previously plagued the 7800GTX Linux performance. Some such problems were the 2D/3D clock switch not operating properly and the GPU not being able to surpass the 415MHz mark. Although in our testing we were using an early build of the 1.0-7675 x86_64 drivers, we're pleased to say these issues are no longer a problem. The G70 immediately scaled up to 468MHz; past the 430MHz reference mark. This article is in continuation of our previous piece entitled the NVIDIA GeForce 7800GTX Linux Preview. The 6600GT and 7800GTX 1.0-7667 benchmark results were obtained from the previous article as no hardware or software changes had occurred to this testbed except for the driver upgrade. Below are the system components once again that we used during testing.
Hardware Components
Processor:
AMD Athlon 64 3000+ (Winchester)
Motherboard:
Tyan Tomcat K8E (S2865AG2NRF)
Memory:
2 x 512MB OCZ EL PC-3200 Titanium
Hard Drives:
160GB Western Digital SATA 7200RPM
Optical Drives:
Lite-On 16x DVD-ROM & Lite-On 52x CD-RW
Add-On Devices:
NetGear WAG311 802.11g & Chaintech AV-710
Case:
Sytrin Nextherm ICS-8200
Power Supply:
Sytrin 460W (ActivePFC)
Software Components
Operating System:
FedoraCore4
Linux Kernel:
2.6.12-1.1398
GCC (GNU Compiler):
4.0.0
Xorg 6.8.2
Although the CPU can be rather restrictive with the graphics benchmarks, even with the latest Athlon 64 X2 and Pentium D processors, we continued to use the Athlon 64 3000+ to signify mainstream performance numbers. Once any other major Linux 7800GTX improvements are sighted, we plan to throw out some more benchmarks with a GeForce 7800GTX on one of our systems that is slightly more advanced. Keep in mind, during testing we're actually using an early build of the 1.0-7675 drivers so there may be even more improvements than what is sighted in this article. Also, as this article is a preview, we are limiting the number of benchmark results we are publishing to Doom 3.
In addition to performance improvements, NVIDIA engineers have also fixed various other problems; such as the thermal monitoring not functioning properly when paired with the 1.0-7667 drivers. When using the thermal monitor with the Leadtek 7800GTX 256MB and the 1.0-7675 drivers, the thermal monitor was providing appropriate core temperatures. Accompanying the new drivers are also various other improvements, but unfortunately the drivers still appear to lack some support for such GeForce 7 features as the new antialiasing modes. Nevertheless, we expect future Linux display driver revisions to add some of these advanced options. Although at the time of publication we have yet to receive an official change log or release highlights we are speculating that the 1.0-7675 drivers do support NVIDIA's new soon-to-be-released GeForce 7800GT. We'll have more on this GeForce 7800 addition at a later time; if it's indeed true.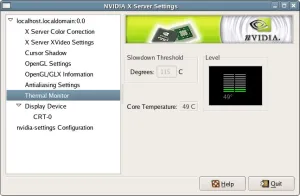 In the Doom 3 benchmarking we're displaying today, we ran it at a variety of different settings which we used in our original 7800GTX preview, however, this time we decided to add in Doom 3 running at high quality with 4x AA, 9-tap Gaussian/4x AF while 1600 x 1200 was the gaming resolution.