NVIDIA GeForce 7800GTX Linux Preview
In this article, for our NVIDIA GeForce 7800GTX Linux Preview, we're going to be using the Leadtek WinFast PX7800GTX 256MB GDDR3 VIVO graphics card. Unlike many of the graphics cards from eVGA and BFG, the Leadtek PX7800GTX very closely follows NVIDIA's reference design for the 7800. Opening up the retail Leadtek packaging, we found the graphics adapter, quick installation guide, VIVO cable, power adapter, two VGA/DVI dongles, and an assortment of CDs. For those unfamiliar with the power requirements of the 7800GTX, a 350W or greater PSU is recommended for a non-SLI setup. In addition, the PCI Express x16 slot isn't capable of providing adequate power to the graphics card; an external PCI Express power connector is required. For those of you that don't have a PSU that offers a PCI Express connector, Leadtek provides the power adapter, which can be connected to the graphics card and two standard molex connectors. As for the assortment of CDs, Leadtek provides their WinFast driver CD, Ulead Cool 3D, Prince of Persia: Warrior Within, Ulead VideoStudio 8, and Splinter Cell: Chaos Theory. Unfortunately to Linux users, these CDs will unfortunately serve no real purpose unless you don't mind gaming under CEDEGA.
As mentioned previously, the Leadtek PX7800GTX sticks very similar to NVIDIA's reference card. It packs in over 300 million transistors; this is over 80 million more than the 6800 Ultra, and it runs at a blazing 430/1200MHz (VPU/MEM) while managing to pack a single-slot cooling solution. Like with other NVIDIA high-end cards, on the opposite side of the PCB is a heat plate to assist in cooling the RAM modules. Although the actual heatsink is composed mainly of aluminum, it does manage to utilize heat pipe technology to assist in cooling of the VPU. As noise is often an issue with most computer users, we're pleased to report that the stock cooling solution with the 7800GTX is actually near silent. The stock fan does provide multiple RPM modes to provide the necessary amount of air depending upon the VPU temperature. In our testing, we found the VPU temperatures to be reasonable while idling and gaming, but more on this will come later.
In the below picture, for comparison purposes, is the Leadtek 7800GTX, a NVIDIA 6600GT, and ATI X300SE; all of which cards are PCI Express.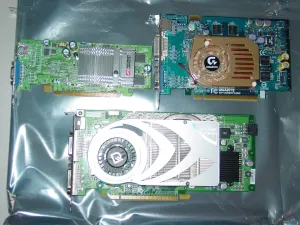 Another gamer-friendly feature that NVIDIA has included into the 7XXX series is SLI (Scalable Link Interface) compatibility. Although at this time SLI may not make a large impact on Linux users, we do suspect, although not officially confirmed by NVIDIA, that we will begin to see SLI Linux support by the end of this year. We imagine Linux SLI support will be initially very buggy due to complications with the different profiles to utilize this technology but in the end, it should be very interesting. Another SLI driver addition we're expecting very soon is the ability to run two cards in tandem as long as their the same VPU, but not necessarily the same brand card. We expect NVIDIA developers to add this feature eventually to further combat ATI's Crossfire technology.
Some of the other improvements made to the 7800GTX include the transition to TSMC's 110nm manufacturing process, 24 pipelines, 8 geometry units, 10320 Megapixel Filtrate, and 38.4 GB/s memory bandwidth. Unlike many early reports that suggested the G70 architecture would simply be revamped and based off the NV40, the 7800GTX architecture is entirely rebuilt with design goals of parallelism, shader arithmetic density, High Dynamic Range (HDR), and power efficiency.
Yet another one of the improvements made to the GeForce 7800GTX are the addition of some new techniques in antialiasing to further smooth the jagged edges experienced especially when gaming. The two new antialiasing modes are Transparency Adaptive Supersampling and Transparency Adaptive MultiSampling. These new AA modes should provide more realistic rendering of scenes; once they are supported by the Linux drivers.