We Rely On Your Support: Have you heard of Phoronix Premium? It's what complements advertisements on this site for our premium ad-free service. For as little as $3 USD per month, you can help support our site while the funds generated allow us to keep doing Linux hardware reviews, performance benchmarking, maintain our community forums, and much more. You can also consider a tip via PayPal.
Performance:
As the Tyan Tomcat i7221A (S5151) utilizes an Intel Copper River (E7221) Chipset which is designed for servers rather than the usual desktop environment, for these benchmarks we wandered away from our usual slew of testing and opted for benchmarks to simply stress the server/workstation environment rather than throwing in some gaming and desktop benchmarks as well. The benchmarks we settled for were focused around measuring the time of GZip compression, LAME Compilation, Opstone Singular Value Decomposition, Timed Disk Reads from an external USB device, and HTTP Apache benchmarking.
Unfortunately, at the current time, the onboard 8-bit VGA graphics embedded on the Intel E7221 are currently not compatible with the latest version of Xorg. There have already been BugZilla reports filed; however, Red Hat's Fedora and other current distributions have yet to address this problem in their releases and updates. When attempting to boot the FedoraCore4 installer, the graphical interface simply becomes inoperable. When doing the text-based installer, it functions accordingly; however, after it is installed it continues to fail when attempting to start Xorg. Also, when we attempted to try Gentoo 2005.0 we experienced similar problems. However, when installing Ubuntu 5.10 Colony 2 we experienced no graphical troubles, but, Colony 2 is a development release from earlier this month and it is still plagued by numerous bugs making it not ideal for benchmarking. We would like to point out that the onboard VGA compatibility issue with Xorg isn't specific to the Tyan i7221A, but is universal to motherboards that utilize the Copper River Chipset. Hopefully, we are expecting within the next couple of weeks there will be a stable update available for Xorg on the different distributions to properly correct this problem. To fix this problem for ourselves, we simply picked up an eVGA GeForce FX5200 PCI 128MB graphics card. With this PCI graphics card we simply installed it into the PCI slot and then disabled the onboard graphics, after doing so we were no longer plagued by Xorg problems.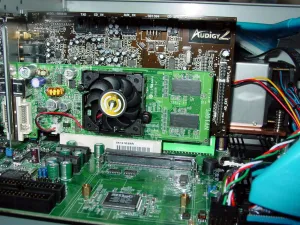 The system components used in testing the Tyan Tomcat i7221A are listed below.
Hardware Components
Processor:
Intel Pentium 4 530 (3.0GHz)
Memory:
2 x 512MB Mushkin PC4000 (2.5-3-3-8)
Graphics Card:
eVGA GeForce FX5200 128MB (PCI)
Hard Drives:
Seagate 7200.8 ST3200826AS 200GB SATA
Optical Drives:
MSI 16x DVD-ROM
Add-On Devices:
Creative Labs Audigy 2
Case:
SilverStone LC-14
Power Supply:
Silentmaxx 580W IC-Tech
Software Components
Operating System:
FedoraCore4
Linux Kernel:
2.6.12-1.1398
GCC (GNU Compiler):
4.0.0
Graphics Driver:
NVIDIA 1.0-7667
Xorg 6.8.2
For comparison purposes, we also benchmarked a Tyan Tomcat i915 S5120 using the same system hardware, except for the graphics card. As the graphics adapter specifically affects none of the benchmarks we used for this review, for the S5120 we used an ATI X300SE PCI Express x16 graphics card. We would like to point out that the i7221A motherboard is compatible with single-core EM64T LGA775 processors; however, in this review we stuck to using the 32-bit Intel Pentium 4 processor.
As for the benchmarking procedures, our first benchmark to hit both systems was a measure of time required to Gunzip the America's Army 2.3 full-installer archived file, which measured in at 745MB (time gzip -c armyops230.tar > armyops230.tar.gz). The next benchmark to focus more on the performance, was measuring how long it took to compile the LAME (3.96.1) encoder (time make). The next benchmark is from BlueSailSoftware, the Singular Value Decomposition benchmark, and is designed to specifically stress the CPU with near-singular linear algebra problems. For this, we used the Pentium 4 optimized build and recorded both the single and double-precision means. To measure the USB2.0 performance, we used a 512MB Corsair Flash Voyager drive and performed read benchmarks when it was connected to each of the systems. The timed disk reads occurred by hdparm -t /dev/sde1 and as with all of the benchmarks the average of three runs was used. Our next, and final, benchmark to take center stage in this review was Apache Benchmark (ab). For this, we measured the average number of requests per second. The requesting file was 63854 bytes, which was comprised of simple HTML markup. We used ab version 2.0.41-dev, in conjunction with Apache HTTPD 2.0.54. We used Apache Benchmark to test each system with 5000, 10000, 25000, and 100000 requests.