We Rely On Your Support: Did you know that you can get Phoronix Premium for under $3 per month? Try it today to view our site

ad-free, multi-page articles on a single page, and more

while the proceeds allow us to write more Linux hardware reviews.
Transcend 1GB JetFlash 110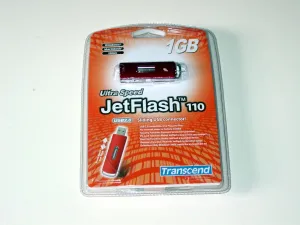 Over the last couple of months, we've seen a lot more innovative products come out of Transcend, mainly in the area of USB thumb/flash drives. In fact, we were one of the first sites to bring coverage of the Transcend JetFlash DSC, which was a 64MB thumb drive measuring in at 80 x 29 x 16mm and doubled as a 1.3MP digital camera. More recently, we've looked at the JetFlash 2A which sported 128MB of RAM but its unique feature was the write-protection. By the sliding of a switch on this minuscule thumb drive, the drive would offer write protection. Today, we're bringing back the Transcend JetFlash series again as we take a look at their latest addition to this ever-growing line, the JetFlash 110. Like all of the previous JetFlash products we've examined, the Transcend 110 brings yet another new offering to the table. This time it isn't a digital camera, or a write protection switch, but is a sliding USB connector. Through the use of this sliding USB connector, the device is roughly 20% smaller than the original JetFlash! When the device isn't in use, simply push the connector back into its housing but when it's needed simply pop out the connector and you're set to go!
Features:
· Elegant design with sliding USB
· Fully compatible with USB 2.0
· Easy Plug and Play installation
· PC-Lock Function: Makes JetFlash110 a key to your computer
· Boot-Up Function: Makes JetFlash110 a bootable device
· Partition & Security Function: Create a private partition with password protection
· Recovery Function: Restore JetFlash110 to its default settings
· Driverless (Only Windows 98SE needs the enclosed driver)
· Powered via the USB port. No external power or battery needed
· LED indicates the usage status of the JetFlash110
Contents:
Although there have been many changes between products in the JetFlash series, one aspect that hasn't been revised is the contents bundled with each thumb drive. Found inside the Transcend packaging is a warranty card, quick installation guide, Transcend CD, USB extension cable, two product manuals (Transcend Flash Family and Transcend Storage & Display Family), JetFlash labels, neck strap, and the actual 1GB flash drive. Contained on the Transcend CD are the Windows 98SE drivers, JetFlash Utility Tool, Recovery Tool, and user's manual. Of course, all of these tools on the CD are designed for Microsoft Windows, but at least Transcend mentions that this device will work flawlessly under Linux if the kernel is 2.4 or greater. Although Transcend documentation states that there is a neck strap included, what we received was more of a wrist strap.