ATI Linux Display Driver v8.14.13
Our next item of focus was the ATI Control Panel. After running fglrxconfig and rebooting the machine, ATI Control appeared in the Fedora GNOME Applications menu and a second icon appeared under System Settings.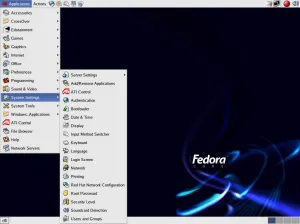 With the ATI Control Panel, there are currently three tabs available – Information, DualScreen, and Adjustment. Under the information tab, a good portion of information about the graphics card is displayed. Such information displayed is the BIOS version, memory speeds, OpenGL string, and transfer mode. Unfortunately, this information tab still could be improved with more information and some of the data currently displayed simply contained "unknown" for such things as the card name and chip type. On the DualScreen tab, the primary monitor can be set in addition to the Desktop setup whether it be clone mode, extended desktop horizontal, extended desktop vertical, or simply disabling a second monitor. On the third, and final, tab the gamma correction is the only adjustment currently available. When altering the three sliders, the entire monitor display is changed real-time, rather than simply displaying a small preview image.
As a whole, we were most impressed with the improvements made in the new ATI Linux drivers (8.14.13). The graphical installer and easily accessible control panel are huge benefits for us Linux users, as ATI had never tapped into them before. Unfortunately, the options available for driver installation and package generation are still very much sub par compared to all of the options that could possibly be implemented. However, for the Linux beginner they will definitely find the new installer to their advantage. In addition, there are still many improvements to be made with the ATI Linux Control Panel. It would be nice to see more tabs added for such things as overclocking, rotation, thermal monitor, OpenGL settings, overlay, and adapter; to make it more comparable to the Windows ATI Catalyst Control Center and the Linux NVIDIA Settings. With great strides being made on behalf of ATI with their Linux drivers, expect some ATI graphics card reviews at Phoronix in the very near future. In addition, as more of these improved ATI Linux drivers are released expect to see some Phoronix ATI driver performance comparison articles, similar to our recently published NVIDIA Linux Display Driver Performance Analyzed which covers all of the NVIDIA Linux drivers for the later half of 2004 and early 2005. Overall, the ATI Linux developers deserve to be applauded for the exceptional job well done with the 8.14.13 drivers and we hope they can continue to make great strides in future ATI Linux releases.