Computex Taipei 2005 Coverage
Our last day attending Computex Taipei 2005 has rolled to an end, as tomorrow is the day for the general public. Today we hit Foxconn, MSI, and AOpen again for more details, DFI, Powercolor/Tul, Triplex, Vantec, XGE, and Apacer. Read more to check out all the companies' latest hardware!
We'll kick off this report today with MSI. They had some nice looking motherboards with new improved features. MSI updated their CoreCell technology this year and it features D.O.T. (Dynamic Overclocking Technology) 3. Now it not only loads and tests the CPU but it also tests the graphics card to ensure stability. Next up, we have the monster card that we've been seeing from various companies, the dual GPU 6800 Ultra. Pretty amazing card to see in person because it's just so big.
Next up we have a demo of the ATI Crossfire.
This picture below is probably pretty strange looking to a lot of you. It is a PCI-Express AND AGP card all in one! All you have to do is flip it upside down. Now that's a very interesting design for people who are stuck in AGP and want to upgrade to PCI-Express later.
Next up, we have a few of MSI's barebones HTPC systems.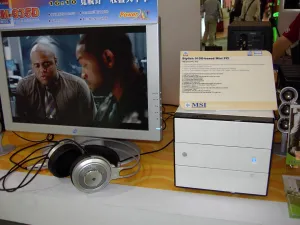 Recently MSI has also been expanding into the MP3/Media player market. You can see some of their new products below.