We Rely On Your Support: Have you heard of Phoronix Premium? It's what complements advertisements on this site for our premium ad-free service. For as little as $3 USD per month, you can help support our site while the funds generated allow us to keep doing Linux hardware reviews, performance benchmarking, maintain our community forums, and much more. You can also consider a tip via PayPal.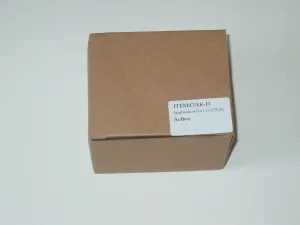 Due to the overclocking fanatics, many of the components we test on a daily basis here at Phoronix are designed for desktop systems. Although we do look at our fair share of server components, many of the CPU cooling contraptions we test are designed for enthusiasts and consumer desktops. Today is an exception to this long-standing tradition. What we have our hands on now is a heatsink designed for 2U servers running an Intel LGA775 processor. This CPU cooler is the CoolJag JAC16EC (OAK-D).
Features:
| | |
| --- | --- |
| Weight: | ~ 940 grams |
| Dimensions: | 89 x 83 x 68 mm (L x W x H) |
| Fan Speed: | 6800RPM |
| Bearing System: | Two Ball Bearing |
| Heatsink Material: | Copper C1020 |
Contents:
Similar to the recently reviewed CoolJag JAC84MC, the JAC16EC arrived in a simple cardboard container. Luckily, this heatsink arrived in a perfectly conditioned cardboard box and displayed no apparent damage. The only marking on the cardboard was the product label, which stated the item and application. Inside of this box were the CoolJag LGA775 heatsink, motherboard retention plate, and a small packet of thermal paste. The included thermal paste is definitely not any Arctic Silver, but should be able to do a sufficient job cooling Intel Pentium processors running stock speeds.