Logisys Home Theater Acrylic Case
Cases these days come in one of four materials: steel, plastic, aluminum, and acrylic. Budget cases and silent PC cases are often made of steel or plastic. This is because plastic/steel cases are cheap to manufacture and for the silent-o-philes, they are heavy and absorb sound well. On the other hand, aluminum cases are very light in weight and look very stylish. They've become very popular amongst enthusiasts because of this and the case market has been flooded with offerings by a large number of companies. The fourth material, however, is one we don't see very often, acrylic. Today we have an HTPC case from Logisys, the Home Theater Acrylic Case.
Features:
· Made of clear acrylic material
· Size: 14.6" x 5.6" x 15.2"
· Fits all micro ATX and some of baby ATX size motherboards
· Comes with 1 5.25" and 1 3.5" external bays, 1 hidden 3.5" bay
· 2 Front USB 2.0 and audio ports
· 4 60mm blue LED clear fan, 2 in the front and 2 in the back
· 4 PCI/AGP back slots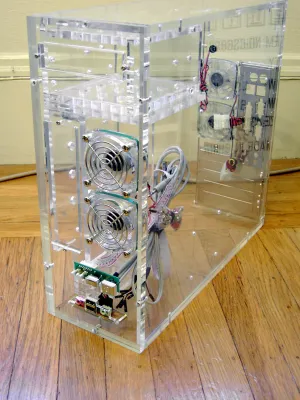 Contents:
The case came in a simple white box that was labeled Micro ATX Computer Case. There was no sort of picture or product name, but on the side there was the item number, quantity, and weight information. Inside the box we found the case wrapped in bubble wrap and cushioned with foam. We then checked the box for a manual but nothing else was found inside. We figured it wouldn't be a problem, however, since case installations are usually self-explanatory.