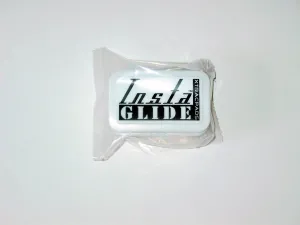 In the past we have seen Teflon tape circles that attach to the mouse feet in order to decrease friction between the mouse and the pad, followed by specially formulated wax, the next thing to come around is a liquid designed for anti-friction technology. This liquid is contained in a small sponge which is inside of a plastic container that can be applied to the mouse or the mouse pad, similar to cashiers or bankers and their plastic container with a water-filled sponge, except this mouse liquid is designed to decrease friction rather than adding friction; which is the used by cashiers or bankers to better handle money. Talking with Christopher Kahl, the Xtrac designer, before the InstaGlide had launched he had mentioned that believed this was a "KILLER" product, but will we at Phoronix find this product to be killer?
Features:
XTracPads™ InstaGlide is a "quick-to-install" anti-friction technology.
To apply simply open the InstaGlide container and wipe over your mouse feet. Typically, one pass should be sufficient. Each application can last as long as 3-4 days. Each InstaGlide container is good for approximately 100 applications before needing replacement!
XTracPads InstaGlide™ does more than enhance your mouse, it can even be applied to our plastic top mouse pads for even greater friction reduction! In fact, XTracPads InstaGlide makes a perfect companion to our HYBRID gaming mat.
XtracPads InstaGlide is 100% compatible with laser, optical and ball mice.
InstaGlide is not intended for any use other than specified on this page.
Do not ingest InstaGlide.
Examination:
As the instructions for the InstaGlide are quite simple, just open the container and wipe the mouse feet or plastic top mouse pad with the sponge, no instructions are included. We simply received the Xtrac Instaglide inside of a clear plastic bag. The XtracPads press release stated "InstaGlide is a small device, that when collapsed, can easily fit in one's pant pocket for easy transport." Using the traditional golf ball size comparison, revealed the unit to be roughly the same size.
The first time we were opening up the InstaGlide plastic container, some of the liquid had leaked out onto our hands. When this had occurred, we knew we were in for a real treat due to the extremely slick oil feeling we felt. When the container is closed, the sponge is compressed to ensure it's moistened for future use.