As UFO's and extraterrestrial life forms remain a mystery to the common person, computer modding manufacturers will continue to fuel this occult through new products with a theme of aliens, area 51, or un-identified flying objects. These sorts of themes have been found for a while in computer chassis' and mods but Razotech is entering the mousing market with a newly themed mouse. Razotech's latest product is the UFO mouse, as the name implies a UFO theme is evident throughout the mouse. The main feature in mouse, are the 10 ultra bright LEDs inside of the clear plastic mouse. These LEDs illuminate in a counter-clockwise fashion, to mirror the appearance of "flying UFOs".
Features:
· Ergonomically designed
· Advanced optical transmitting technology
· Moves smoothly across all types of surfaces
· Maximum comfort, stable performance
· Encoded scroll technology
· 10 ultra bright rotating LED lights
· Advanced optical transmitting technology with high solution (800DPI)
Contents:
On the front of the packaging, is a plastic covering to view the actual mouse and on the rear of the box is some basic information about the Razotech UFO. Opening up this packaging, we found only the mouse, no users manual, CD, or USB to PS/2 adapter.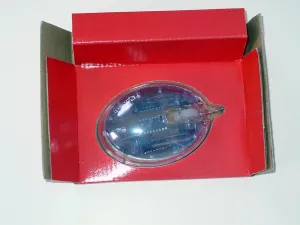 Examination:
Although we've seen translucent mice in the past, the Razotech UFO was quite different from the rest. While some mice have some very odd shapes, to better conform to your hand, the UFO mouse is almost a small oblong circle. The design reminded us very much of the days of the old Apple iMac mice, which were more of a hockey puck than anything else. Pulling out a golf ball for our traditional size comparison, we indeed see that this mouse is incredibly small. Although this mouse may work well for the children in your household, most users will probably find this mouse to be too small.
Unlike the Logitech and Microsoft mice which are often exceeding five buttons, the mouse we are examining today continues to use the standard three buttons - left click, middle click/scroll wheel, and right click. With the overall size of the mouse being very diminutive, all of the buttons are also shrunk. Flipping over the Razotech mouse, we see the bottom side to also be translucent but the interesting part about the bottom, are the feet. Four incredibly small plastic circles make up the UFO feet. With the small size of these feet, we'd be surprised if the Razotech UFO could make it a few months before they were worn down. The 800DPI optical sensor is positioned just a little below the center of the mouse.
All of the blue LEDs are located on the outer ring of the mouse, which we'll discuss more later on in the performance section. The mouse cord on the Razotech UFO is about 166 centimeters in length which is a fair amount of cable for a mouse.