Speeze EEA67B4 VultureSpin 3
Although AMD has been saying since December of 2004 that they are phasing out Athlon XP processors, at this time there continues to be a plentiful supply of reliable Socket A CPUs. While this stockpile of Athlon XP's remains, a demand for Socket A cooling solutions will continue. The latest Socket A heatsink to enter our testing laboratory is the Speeze EEA67B4 VultureSpin 3, which is the focus of this review.
Features:
Heatsink Dimensions:
80 x 80 x 69 mm
Rated Speed:
2300RPM
Noise Level:
19.0dBA
Air Flow:
25.78CFM @ 2300RPM
Features:
3 Grip Clip, Copper Base Insert, Inverted Spider Fan
Thermal Resistance:
0.548 °C/W
Compatibility:

Celeron ~ 1.8 GHz (FC-PGA)
Pentium III ~ 1.13 GHz (FC-PGA)
Pentium III ~ 1.4 GHz (FC-PGA2)

Athlon ~ 1.4 GHz (Thunderbird)
Athlon MP ~ 2800+ (Thoroughbred)
Athlon XP ~ 3400+ (Barton)
Athlon XP ~ 2100+ (Palomino)
Athlon XP ~ 2700+ (Thoroughbred)
Duron ~ 1.8 GHz (Morgan)
Sempron ~ 3000+ (K7)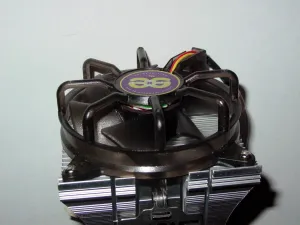 Contents:
Packaging inside the small petite purple and green container is the EEA67B4 heatsink, a small user's manual, and a Speeze case badge. The EEA67B4 is definitely not one of the larger heatsinks we've examined but rather one of the smallest. The included case badge is simple yet elegant with its neon yellow background and purple text, to match with Speeze's color scheme.
Examination:
Unlike the Asus Star Ice, Cooler Master Jet 7, Thermaltake Big Typhoon, or even the Coolink BAT1VS HSF, the Speeze VultureSpin 3 retains a simple heatsink design. On top of the heatsink is a basic 80mm fan that can be easily replaced by an after market heatsink fan. The stock EEA67B4 fan rotates at 2300RPMs and produces a noise level of 19dBA. The entire heatsink is composed entirely of aluminum, excluding a small portion of copper on the heatsink's base. Twenty-two thick aluminum fins are used with the EEA67B4 to drive away the heat from the CPU.
On two sides of the heatsink is the traditional and basic mounting clip for latching onto Socket A or Socket 370 processors. Flipping over the heatsink, the copper insert and pre-applied thermal paste are visible. Although the aluminum and copper base didn't have a mirror finish and had a few minor scratches but should be able to dissipate the heat quite well. Overall, the Speeze EEA67B4 is quite small and simple but should be powerful enough to dissipate heat away from AMD Athlon XP's and Intel Celeron CPUs.