13-Way NVIDIA OpenCL Performance & Perf-Per-Watt From Fermi To Maxwell
Similar to this week's article of looking at the OpenGL performance from the GeForce 9800GTX through GeForce GTX 980 Ti and TITAN X in preparation for Pascal Linux testing ahead, today I am doing a similar comparison while looking at the OpenCL compute performance. For thirteen NVIDIA GeForce graphics cards from Fermi to Maxwell I ran a popular OpenCL benchmark while comparing not only the raw performance but also the performance-per-Watt.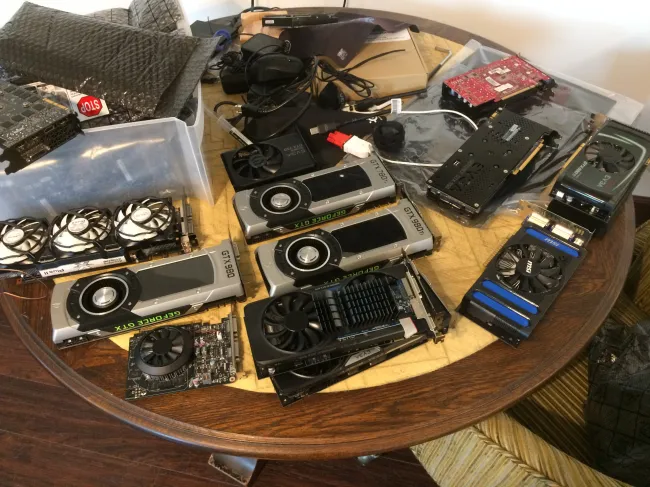 In getting some fresh historical comparison data built up for comparing to the GeForce GTX 1070/1080 in the coming days, (hopefully, still haven't heard from NVIDIA whether they will be providing review samples for Linux testing of Pascal...) I've been testing a slew of different cards and for your consumption today is a 13-way OpenCL LuxMark comparison with Fermi, Kepler, and Maxwell cards I had available for testing. These fresh tests were done using Ubuntu 16.04 LTS x86_64 with the Linux 4.4 kernel and the new NVIDIA 364.19 proprietary graphics driver.
The same system as used in the OpenGL comparison earlier this week was used for this OpenCL comparison. The WattsUp Pro USB power meter was monitoring the system's AC power consumption during all of the benchmarking process. LuxMark was used as the main OpenCL test given its popularity and cross-platform support. If you wish to compare your own system's performance, simply install the Phoronix Test Suite and run phoronix-test-suite benchmark luxmark. Or if wanting to do your own side-by-side comparison to the results in this article in a fully automated manner, simply run phoronix-test-suite benchmark 1605111-HA-NVIDIAOPE70.