We Rely On Your Support: Did you know that the hundreds of articles written on Phoronix each month are mostly authored by one individual working insane hours? Phoronix.com doesn't have a whole news room with unlimited resources and relies upon people reading our content without blocking ads and alternatively by people subscribing to Phoronix Premium for our ad-free service with other extra features. You can also consider a tip via PayPal.
12-Way Intel / AMD Integrated Graphics Linux Tests On Ubuntu 18.10
Here is a fresh look at the current Linux OpenGL/Vulkan performance of various new and old Intel/AMD systems with integrated graphics using Ubuntu 18.10.
With Ubuntu 18.10 around the corner, I've been carrying out some fresh benchmarks and do have a low-end Linux system benchmark comparison coming up soon. Today is looking at the graphics performance, which was benchmarked in the state it was a few days ago with the Linux 4.18 kernel, GNOME Shell 3.30.0, X.Org Server 1.20.1, and Mesa 18.1.5. Since then Mesa 18.2.1 was added to the archive, so unfortunately this particular article missed out on that upgrade, but the comparison is still very much relevant with not being many changes for the hardware covered by this comparison and the OpenGL/Vulkan software under test. The systems ended up being used for testing included:
- Pentium G3258
- Pentium G4400
- Core i3 4130
- Core i3 7100
- Core i3 8100
- Core i5 3470
- Core i5 8400
- Core i7 5775C
- Core i7 8700K
- A10-7850K
- A10-7870K
- Ryzen 3 2200G
Originally the intent was also to finally have a good Raven Ridge Linux comparison too... The initial desktop Raven Ridge launch was quite buggy on Linux and it turned out at least a share of those problems were due to problematic firmware compared to what the AMD Linux developers had been developing against as part of their Raven Ridge bring-up. Since May, the Ryzen 5 2400G had been playing well on Linux while my Ryzen 3 2200G box was not. So going into this comparison I had the hope the Ryzen 3 2200G was now playing nicely.
Indeed, when upgrading the firmware on the motherboard to the latest available and running with the Ubuntu 18.10 stack, the Ryzen 3 2200G system was now running without any screen corruption, stability issues, or other problems. That desktop APU system is now working great on Linux! But when it came to testing the Ryzen 5 2400G system and also upgrading its firmware again while using the same Ubuntu 18.10 image, it was back to being a wreck.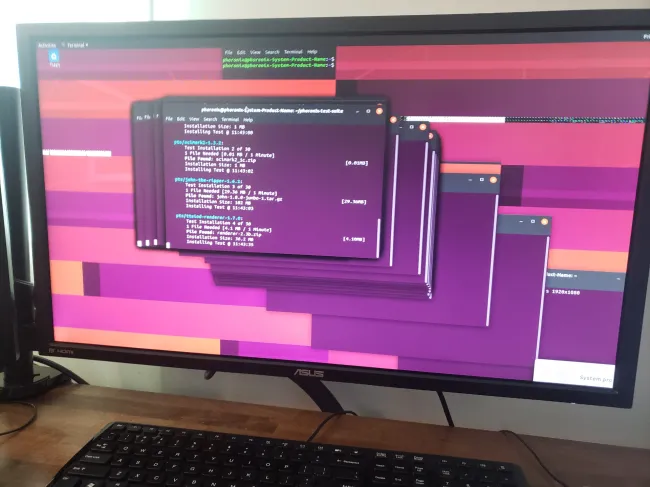 These pictures were of the state with the latest firmware and on Ubuntu 18.10... There were clear problems with damage tracking, corruption, and when trying to run various games/benchmarks there would be hangs within a few minutes. I tried adjusting the memory frequency, available video memory to the Vega APU, etc, to no avail. So the Ryzen 5 2400G was left out of this comparison but at least the Ryzen 3 2200G is now at play.