10GbE Linux Networking Performance Between CentOS, Fedora, Clear Linux & Debian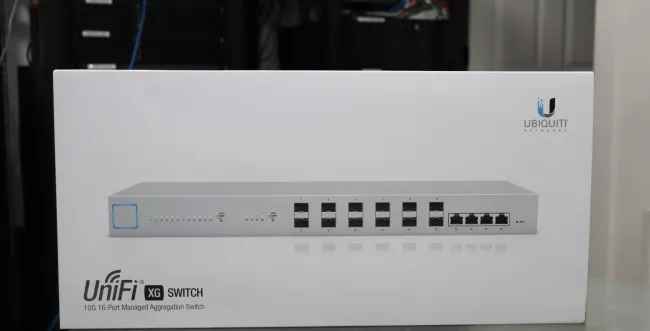 The networking switch used for this testing was an Ubiquiti Networks US-16-XG-US. This managed 10G switch provides twelve 1G/10G SPF+ ports and four 1G/10G RJ45 ports. Each test server was run consecutively as the client for benchmarking and there was no other activity on this switch during the benchmarking process. The Ubiquiti US-16-XG-US is one of the most affordable 10G switches currently available but still pricey in relation to Gigabit gear. The US-16-XG-US has a retail price of $575 USD though back around the holidays could be found for about $490 during sale periods.
For those trying to price out the rest of the costs in setting up basic 10GbE infrastructure, the QLogic cLOM8214 PCIe cards used for testing were HP NC523SFP PCIe adapters that could be found online new from major Internet retailers for about $40 USD per card and feature two SPF+ ports. The HP NC523SFP / QLogic cLOM8214 is supported by the mainline Linux kernel with the QLCNIC driver.
The SPF+ cables used were 10Gtek SFP-H10GB-CU2M cables that could be found for about $15 USD a piece.
Pricing on 10 Gigabit gear has come down albeit still quite lofty for home/SOHO setups. Hopefully this year we'll see continued price drops in this space especially with 2.5Gb/5Gb Ethernet adapters coming to desktop class motherboards from the likes of Aquantia and even Intel having prepared their "IGC" Linux driver with likely announcing some new products this year. It will be great to finally move past 1G networking hardware and hopefully this will be the year 2.5G at least becomes common to enthusiast/HEDT systems.
A variety of network benchmarks were run on these two servers and the four Linux distributions for this initial round of benchmarking. All of these tests were run from the Phoronix Test Suite and range from Microsoft's new Ethr cross-platform network benchmark to the long-standing iperf3 and netperf tools. In cutting straight to the main result, here is the geometric mean of all the network benchmark results conducted for this article:
On both systems, Debian 9.6 surprisingly was the winner. But coming in a narrow second place finish was Intel's Clear Linux distribution, which normally is the fastest for system intensive benchmarks but this is the first time we've looked closely at its 10GbE network performance and it appears they still have the potential there for some tuning. Coming in third on both systems was Fedora Server 29 while in a distant last place was CentOS/EL 7. On the Dell PowerEdge R7425 server it was 39% difference from the slowest (CentOS) to fastest (Debian) with these stock OS tests. On the Tyan server it was just a 15% spread.
On the following page are some of the individual benchmark results to point out from this 10GbE Linux benchmarking session.