Happy Holidays! If you enjoy all the original Linux hardware reviews and open-source news content on Phoronix, consider joining Phoronix Premium this holiday season. For Black Friday / Cyber Monday, there is a cyber week special to go premium and enjoy an ad-free experience, native dark mode, and multi-page articles presented on a single page.
Valve's Gabe Newell Talks Linux Steam Client, Source Engine
For those that have doubted the exclusive Phoronix claims for quite a while now that the Steam client and Source Engine are in fact being ported to Linux, the doubts can be nearly laid to rest. Even I began to wonder how long it would take before the clients for their popular games would be publicly released under Linux. However, after confirming the information perhaps a bit too soon, their level of Linux interest is much more clear after spending a day at their offices. A meeting topped off the day with Gabe Newell regarding Linux where he sounded more like a Linux saint than an ex-Microsoft employee. Valve does have some great plans for Linux beyond just shipping the client versions of Steam and their popular games on the Source Engine.
As I have been sharing for a few weeks, Valve invited me out to their Bellevue, Washington offices after Gabe Newell asked me last month for some referrals of developers with Linux OpenGL experience. They already have a team of Linux developers working on the client efforts, but they are looking to expand. From the recommendations I made to Gabe last month for some experienced Linux OpenGL programmers, they already hired one of them for their Linux skills and are still interviewing at least one other from my list. Valve is also hiring more, and it's just not Linux OpenGL -- even if you're just a Linux kernel developer they might be interested in hiring you (I'll be placing some more recommendations to them in the next few days, if you think you might be interested, contact me for possible referral especially if your work has been covered on Phoronix in the past).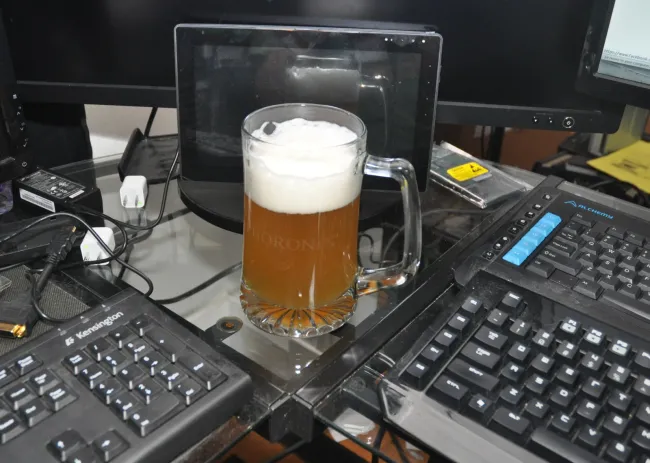 Prost to Valve! It looks like the best times for Linux gaming may be ahead of us...
It has taken longer than most anyone would have anticipated, but the fact remains that Valve is in fact creating a native Linux port of their Steam game distribution client and of the Source Engine to run natively on Linux. Phoronix broke this story, i.e. in 2010 when announcing Valve's officially releasing Steam and the Source Engine for Linux. Unfortunately, it has taken longer for a variety of reasons, which led some gamers to think this was some Phoronix joke or that the information was inaccurate. It was not. Valve's Linux work is finally soon to see the light of day in what will more than likely be the coming months.
In part, what has taken so long is that Valve's management structure is rather flat. Anyone there is free to work on with what they wish without needing to report directly to managers assigning them with tasks, etc. There has been developers working on the Linux support for sometime, but not until recently has Gabe Newell become personally involved with the Linux client work. In fact, his desk is currently in the current Valve Linux development camp!

Left 4 Dead 2 running natively on Linux.... No Wine library or anything else for "fake" support. This is on an Ubuntu 11.10 installation with the AMD Catalyst Linux driver.
While some on the Phoronix Forums began to speculate after my silence on Twitter while at their offices that something bad happened, nothing bad came out, but it was only utter greatness. I was not taken out by a crow-bar, not due to an NDA, and not just for PTS. The reason for no "live updates" was that it was too busy trying out the Linux development binaries and helping them out, discussing technical details, and letting them pick my brain.
Afterwards, I was too busy thinking about what was said and what I actually wanted to write. At first I was deciding to not even say anything and let Valve's brilliant execution work out, but alas I must cover my travel expenses, etc with ad revenue. Simply being able to execute a Source Engine game myself on an Ubuntu Linux installation and not seeing it pass through Wine or anything else was almost worth the time and expense. Of the more than 5,900 news articles regarding Linux and more than 2,100 featured articles I've written about Linux in the past eight years on Phoronix, this is probably one of the hardest I've had to write. For the benefit of Linux, if Gabe's backing of Linux turns out as he expresses, this is wonderful for Linux and much more important than just breaking an early story on Phoronix...

(Continued on next page...)