A Look At The Xeon Gold 6138 + Tyan GT24E-B7106 1U Linux Server Performance
Last week I began testing the Tyan GT24E-B7106, a 1U barebones server designed for Intel's new Xeon Scalable processors. I am still carrying out many benchmarks of the Tyan GT24E-B7106 paired with two of the Xeon Gold 6138 CPUs, but for those curious about the Linux performance potential of this server when slotting in 96GB of DDR4-2666 RDIMMs and these two CPUs that yield a combined total of 40 cores / 80 threads, here are some initial benchmarks.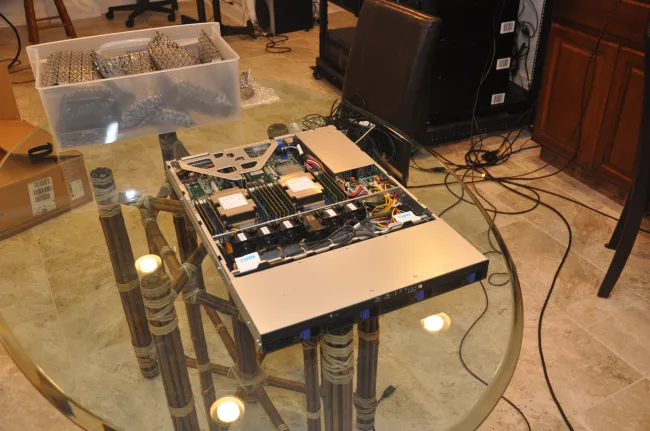 The Thunder CX GT24E-B7106 (B7106G24EV4HR) we received courtesy of Tyan for testing is equipped with four 3.5/2.5-inch drive bays but there is also a model with two NVMe slots and two traditional drive bays, as well as other similar models offering up to 10 and 12 disk capacities. This 1U rackmount system is within Tyan's GT24E chassis and is powered by dual 650W 80+ power supplies while cooling is in the form of six 40mm fans.
The Tyan GT24E-B7106 has two LGA-3647 sockets to accommodate two Xeon Scalable CPUs with up to a 165 Watt TDP per socket. The motherboard has eight DIMM slots per socket (Xeon Scalable CPUs support six channel memory) and supports DDR4 RDIMM/LRDIMMs. The motherboard has two PCI Express 3.0 x16 slots, two Gigabit Ethernet ports via Realtek RTL8211E ASIC, and the board is using the Intel C621 chipset with system monitoring via the ASpeed AST2500.
That's the brief scoop on the Tyan GT24E-B7106 for going with these early Linux benchmark results. More details on this 1U barebones server is available via the Tyan product page.
Testing is currently being done with two Xeon Gold 6138 CPUs, which offer 20 cores / 40 threads each while running at 2.00GHz with a turbo frequency of 3.7GHz. There's a 27.5MB cache, three UPI links, 48 PCI Express lanes, and these Skylake CPUs have a 125 Watt TDP. On the memory front there is six memory channels with support for up to DDR4-2666 speeds.