Trying The SteamVR Beta On Linux Feels More Like An Early Alpha
Making SteamVR Work On Ubuntu 16.04
After taking my mind off the failures and frustrations, the next morning I took to getting it working right. There were no further beta updates over night and still not making any real progress in getting SteamVR playing nicely and reliably. So I ended up wiping the Ubuntu 16.10 installation and going with a fresh Ubuntu 16.04.1 LTS installation. I figured with Ubuntu 16.04 there will be better luck since Valve and other game studios tend to focus on the LTS releases.
I was able to get SteamVR finally working nicely. From a fresh install of Ubuntu 16.04.1 LTS, I applied all available stable updates, installed the NVIDIA 375.27.10 beta Vulkan driver, installed Steam via the Debian package at the Steam website, opted into the beta of Steam, installed the SteamVR beta, and hit the IPC compositor error again... But this time when trying with STEAM_RUNTIME_PREFER_HOST_LIBRARIES=0, I was off to the races and it's fundamentally been working ever since! Heck yeah, after hours of VR setup, the HTC Vive that retails for $800 is finally running on Linux...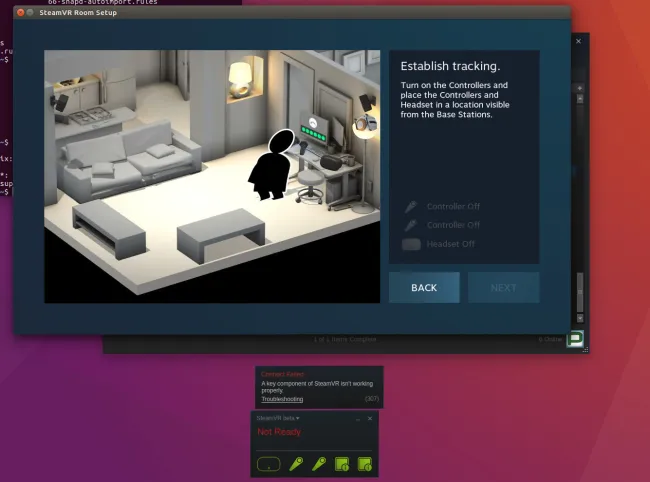 So Ubuntu 16.04 seems to do better than 16.10 for the SteamVR beta, but that doesn't seem to be the only issues. Take a look at the other SteamVR Linux bugs and you'll quickly find other issues outstanding and a range of Linux distributions being used from Debian to Antergos.
Aside from those other open bugs, it doesn't seem to be just a few SteamVR Linux gamers hitting problems. There are also more experiences shared via this Reddit thread that also makes light of tracking issues, complete freezes, and other problems.