Show Your Support: Have you heard of Phoronix Premium? It's what complements advertisements on this site for our premium ad-free service. For less than $4 USD per month, you can help support our site while the funds generated allow us to keep doing Linux hardware reviews, performance benchmarking, maintain our community forums, and much more.
SilverStone Raven RVZ01: One Of The Best Mini-ITX Cases For Building A Linux/SteamOS PC
When opening the box to the SilverStone Raven RVZ01 there is a disclaimer printed on the packaging in multiple languages about being a "unique product" and recommending users first reading the included manual. This statement isn't just some marketing verbage to build up hype or purchasing confidence in the product, but with being able to accommodate up to a 13-inch PCI Express graphics card and four drive bays within this petite mini-ITX chassis, it truly is a unique product. Today at Phoronix we're looking at SilverStone's Raven RVZ01 mini-ITX chassis, the SFX 450W ST45SF-G power supply, and SST-CP11 SATA cabling for building a great Linux HTPC or your own Steam Machine/Box Linux gaming system.
The RVZ01 is one of SilverStone's newer creations and is trying to do to the mini-ITX/SSF space what the original Raven RV01 did to the desktop/ATX space. This mini-ITX / DTX case introduces the Raven Z series with a focus on a very slim design, support for large graphics cards through a PCI-E riser adapter, triple fan configuration, and even support for liquid cooling if desired.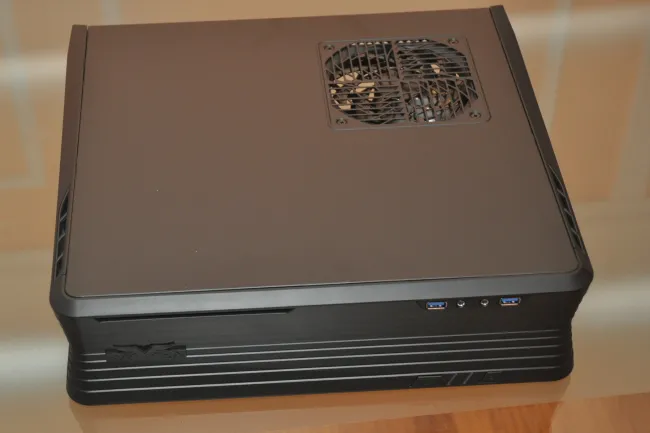 Model
SST-RVZ01B (black)
Material
Reinforced plastic outer shell, steel body
Color
Black
Motherboard Compatibility
DTX, Mini-ITX
External Drive Bays
Slim slot-loading optical x 1
Internal Drive Bays
1 x 3.5-inch, 3 x 2.5-inch
Cooling System
1 x 120mm fan, 1500rpm, 18dBA
1 x 120mm fan, 1500rpm, 18dBA
1 x 120mm fan slot
Expansion Slots
Two
Front I/O Ports
2 x USB 3.0
2 x Audio Jacks (Headphone + Microphone)
Power Supply Compatibility
SFX
Expansion Cards
Supports graphics card up to 13 inches, width restriction of 5.88 inches
Limitation of CPU cooler height
83mm
Net Weight
3.71kg
Dimension
382mm (W) x 105mm (H) x 350mm (D), 14 liters
Security
Supports two Kensington locks