Show Your Support: Did you know that the hundreds of articles written on Phoronix each month are mostly authored by one individual? Phoronix.com doesn't have a whole news room with unlimited resources and relies upon people reading our content without blocking ads and alternatively by people subscribing to Phoronix Premium for our ad-free service with other extra features.
SilverStone Strider Gold S Series 750W
While power supplies are rarely reviewed on Phoronix these days as they aren't a big focus and don't have Linux compatibility issues, I'm still happy to look at interesting models once in a while -- particularly from SilverStone who has worked with Phoronix now for over ten years and continues being very innovative and reliable with their products. Many Linux users go with Linux for being a higher quality operating system while many computer enthusiasts also choose SilverStone products for being higher quality than the competition.
With power supply testing not being a big focus, the testing isn't as in-depth as our other area of component coverage, but will share my experiences in using the ST75F-GS for over two months. This small 750 Watt Gold PSU has been running within the SilverStone Raven RV05 chassis that is home to the MSI X99S SLI PLUS motherboard, 16GB of DDR4 system memory, an Intel Xeon E5-2687W v3 CPU, Intel 530 Series M.2 SSD, and NVIDIA GeForce GTX TITAN graphics card. With this hardware and running various Linux distributions while being under full-load almost all day and every day, the ST75F-GS has worked great so far and hasn't run into any issues.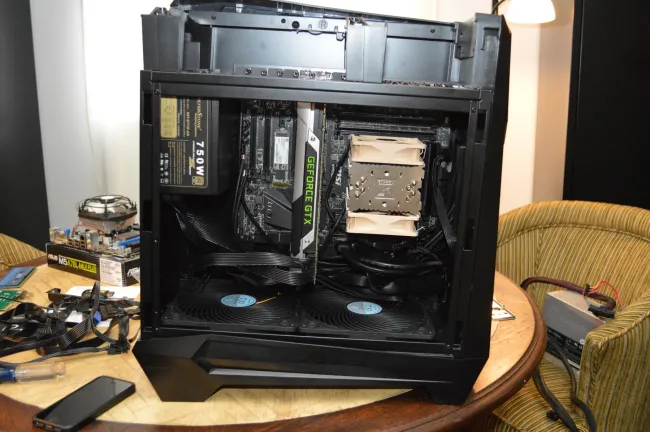 A majority of the past two months, this system with the SilverStone 750 Watt power supply has been running as one of the trial systems for the LinuxBenchmarking.com automated test farm cluster where it's subjected to the daily, automated, heavy benchmarking tasks of auditing the performance of new Linux kernel code, etc. The power supply has been nothing but reliable. In fact, with the LinuxBenchmarking.com systems, there's many SilverStone power supplies (and ATX cases) in use that were former review samples and some are even years old and still running great. The LinuxBenchmarking.com server room does get a bit warm at times with having 32 systems in the small space, but it's been nothing to worry about with these systems.
So while I'm not focused on running a bunch of scientific tests on power supplies that don't mean much to most users anyhow, I can say with confidence that the ST75F-GS has been experiencing high real-world workloads with this Xeon E5-2687W v3 + GTX TITAN system running Fedora/Ubuntu and it's had no troubles. The PSU fan isn't quite what I would call "silent" but it is very quiet and isn't anything really louder than other power supplies in its class.
At the end of the day the ST75-GS is a reliable 750 Watt power supply and what sets it apart from other power supplies is that it's the smallest 80 PLUS Gold ATX PSU with a fully-modular cable design at a depth of just 150mm. For those in need of a small but mighty power supply, I'd certainly recommend taking a look at SilverStone ST75F-GS or the Strider Gold Series in general depending upon your power capacity needs. At the time of writing this power supply is retailing for about $130 USD.
If you enjoyed this article consider joining Phoronix Premium to view this site ad-free, multi-page articles on a single page, and other benefits. PayPal or Stripe tips are also graciously accepted. Thanks for your support.