ARM Cortex-A15 vs. NVIDIA Tegra 3 vs. Intel x86
Last week I shared some early benchmarks of the Samsung Chromebook while running Ubuntu Linux. The Samsung Chromebook is very interesting since it's one of the few readily available computers on the market employing an ARM Cortex-A15 processor rather than Cortex-A9 or other models. The Cortex-A15 found in the Samsung Exynos 5 Dual SoC proved to be very powerful and this Chromebook was quite a good deal with it being trivial to load Ubuntu Linux (and other distributions) while costing only $250 USD for this ARM-based laptop. In the past week I have carried out additional ARM Cortex-A15 benchmarks, including a comparison of its performance the the NVIDIA Tegra 3 quad-core ARM "Cardhu" tablet and several Intel Atom/Core x86 systems.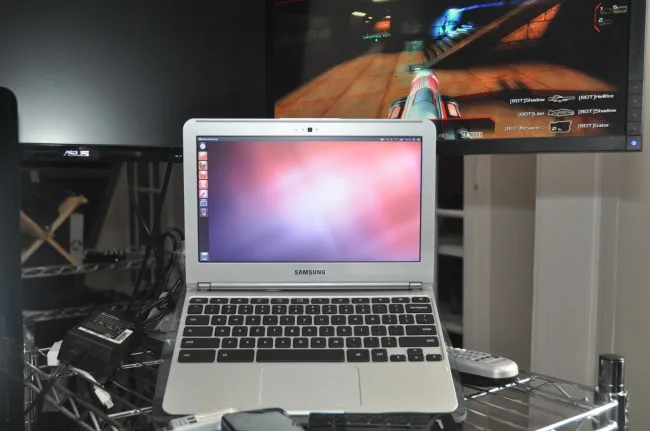 The Samsung Chromebook with its Samsung Exynos 5 Dual SoC is a dual-core processor operating at 1.7GHz. This Chromebook has a 11.6-inch 1366 x 768 LED display, 2GB of DDR3L memory, 16GB SSD, and ARM Mali T-604 graphics. It's quite a nice laptop for a $250 USD price-tag.
While the Samsung Chromebook is pre-loaded with Google Chrome, it's a surprisingly easy process loading up Ubuntu Linux on the ARM notebook. To setup Ubuntu on the Cortex-A15 system I used the steps as outlined for ChrUbuntu. It took only a few minutes and was easy to get Ubuntu Linux running.
Current limitations though of running Ubuntu 12.04 on the Samsung Chromebook is that the touchpad didn't work at all for me (some users have reported success), sound is broken, and there isn't any hardware graphics acceleration at this time.