Windows 10 vs. Ubuntu Linux Performance On A $199 AMD Ryzen Laptop
Lastly here are some thermal and power metrics of Ubuntu running on the Motile 14 $199 laptop for reference when encountering a variety of single and multi-threaded workloads.
Under load, the average system temperature was just 46 degrees and a peak of 78 degrees... Not bad for the wide workloads tested.
The GPU temperature was quite similar to the system temperature due to being on the Ryzen 3 3200U.
On average under load this laptop was drawing 13.5 Watts on battery with a peak of 35 Watts. More monitoring metrica via this OpenBenchmarking.org result file.
Overall the Motile 141 laptop is a decent laptop for the $199 USD price point. Tests comparing the Motile 14 Ryzen 3 3200U performance against other Linux laptops as well as other interesting benchmarks out of this $199 laptop will be coming up soon on Phoronix.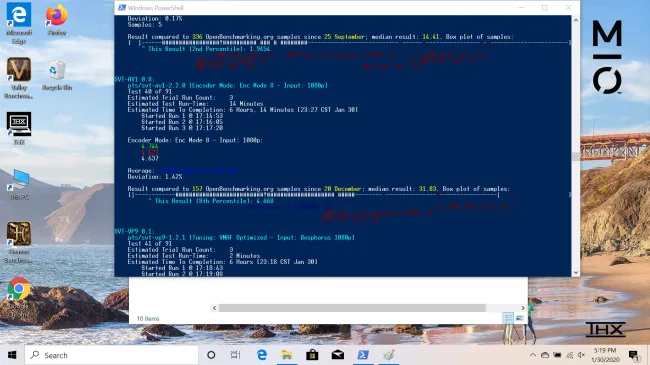 While waiting on more comparison benchmarks, those wanting to see how the Motile M141 laptop compares to your own Windows or Linux system(s), simply install the Phoronix Test Suite and run phoronix-test-suite benchmark 2001319-VE-MOTILE98649 for your own fully-automated, side-by-side comparison against all the Windows/Linux benchmarks found in this article.
If you enjoyed this article consider joining Phoronix Premium to view this site ad-free, multi-page articles on a single page, and other benefits. PayPal or Stripe tips are also graciously accepted. Thanks for your support.