The Fastest Linux Distribution For Ryzen: A 10-Way Linux OS Comparison On Ryzen 7 & Threadripper
While we frequently do Linux OS/distribution performance comparisons on the latest Intel desktop and server hardware, some requests came in recently about looking closer at the fastest Linux distribution(s) when running on AMD's Ryzen desktop processors. Here are benchmarks of ten popular Linux distributions tested out-of-the-box on Ryzen 7 1800X and Threadripper 1950X systems.
The Linux operating systems tested on these two current AMD platforms include Antergos, CentOS, Clear Linux, Debian, Fedora, Solus, Ubuntu LTS, Ubuntu, Void Linux, and openSUSE. Each operating system was cleanly installed and tested out-of-the-box for how Linux desktop users would find it when first deployed and applying all stable updates.
Interested in seeing some fresh #Linux distribution comparison benchmarks about which Linux OS is the fastest on @AMDRyzen #Ryzen and #Threadripper systems? If so, which distros would you like to see compared?

— Phoronix (@phoronix) January 20, 2018
The choice of Linux distributions came from asking on Twitter about a Ryzen Linux distribution comparison. With updates, all of these distributions had at least minimal Retpoline support for Spectre v2 AMD mitigation but most (except Ubuntu) had the "full" support, a.k.a. being built with a patched compiler. KPTI (Kernel Page Table Isolation) wasn't needed and none of the tested distributions had inadvertently enabled it as Meltdown only affects Intel CPUs and all recent kernel patches treat it so accordingly. Some notes/summary on each of the tested distributions:
Antergos 18.1 Rolling - This Arch-based Linux distribution is currently riding with the Linux 4.14.14-1 kernel, GNOME Shell 3.26.2, GCC 7.2.1, and an EXT4 file-system. One notable design choice of Antergos is using the CPUFreq Schedutil governor by default where as the other distributions were defaulting to ondemand or performance.
CentOS 7 - CentOS 7 with updates is using the Linux 3.10.0-693.11.6 kernel, GNOME Shell 3.22.3, GCC 4.8.5, and an XFS file-system by default.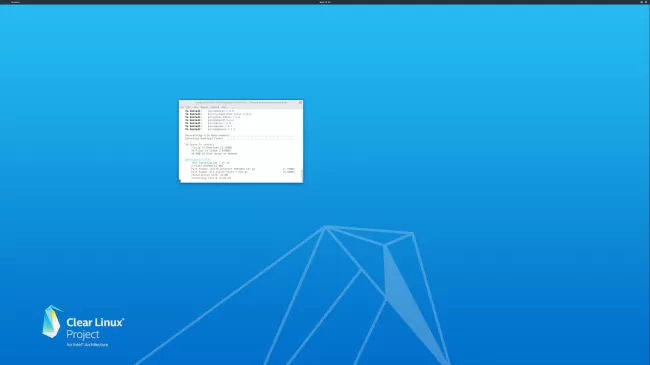 Clear Linux 20500 - Intel's rolling-release distribution when tested had the Linux 4.14.14 kernel, GCC 7.2.1, and uses an EXT4 file-system by default. An additional item to note is that Clear Linux recently switched to using the KYBER I/O scheduler even on NVMe storage as used in today's testing where as the other Linux distributions all defaulted to "none" for their I/O scheduler choice while using the common EXT4 file-system.
Debian Testing - Tracking the development of Debian 10 "Buster", the latest testing snapshot was used with the Linux 4.14.0-3 kernel, GNOME Shell 3.26.2, GCC 7.2.0 and an EXT4 file-system.
Fedora Workstation 27 - This latest Fedora Workstation release has the Linux 4.14.14 kernel, EXT4, GNOME Shell 3.26 on Wayland, and GCC 7.2.1.
Solus 3 - Solus with the Budgie desktop was included in this testing given it has been focusing on performance optimizations as well, some of which were pulled in from Clear Linux. Solus 3 with updates has the Linux 4.14.14 kernel, EXT4, and GCC 7.2.
Ubuntu 16.04.3 LTS - The current Long-Term Support release of Ubuntu in its current HWE stack has Linux 4.13.0-31, GCC 5.4.0, and EXT4 atop a Unity 7.4 desktop.
Ubuntu 17.10 - The current short-lived Ubuntu stable release with Linux 4.13.0-31, GNOME Shell 3.26.2 on Wayland, EXT4, and GCC 7.2.0.
Void Linux - We benchmark Void Linux once in a while and saw some requests come in for Ryzen testing. This rolling-release Linux distribution with Xfce 4.12 had the Linux 4.14.15 kernel, GCC 7.2.0, and an EXT4 file-system.
openSUSE Tumbleweed - SUSE's rolling-release is up to the Linux 4.14.14 kernel, KDE Plasma 5.11.95, GCC 7.2, and is using XFS for the home directory.