OpenRazer+Polychromatic Make It Easy To Configure Razer Keyboards/Mice On Linux
While Razer at this time does not provide any official software support on Linux, via the OpenRazer/Polychromatic projects largely driven by the open-source community, they are making impressive headway. Last time I tried the Polychromatic UI that interfaces with the OpenRazer drivers for configuring Razer products on Linux, it wasn't working too well. But now it seems to have matured a lot and is working out quite well.
After posting the Razer Blade Stealth laptop Linux testing last week, I learned Polychromatic supports the laptop's configurable keyboard quite well. I decided to give Polychromatic a fresh go and also test some of my Razer mice.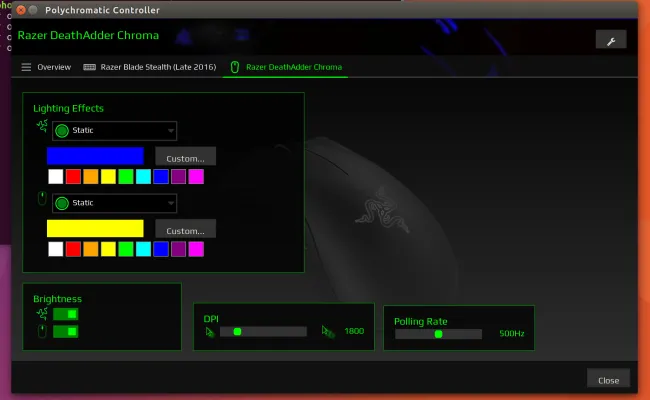 I did my tests from Ubuntu 17.04 while using the PPAs make for an easy installation. PPA details for Ubuntu as well as package details for other Linux distributions (Arch, Fedora, Gentoo, openSUSE, etc) can be found via this GitHub page.
A list of currently supported devices can be found via openrazer.github.io or this table.
The user interface is easy to use and offers pretty much all of the options you would expect from Razer's configuration software on Windows except mice profile support is still being worked on. The open-source project is also still working on support for "custom effects" and managing keyboard/keypad macros.
There is also an applet with Polychromatic for easily configuring elements of the supported devices. It's been working out surprisingly well and much better than the many half-baked, short-lived open-source Razer projects by various developers many years ago.
The Razer Blade Stealth keyboard can then be controlled fine via OpenRazer+Polychromatic and the tested mice (mostly various DeathAdder and Diamondback) have been working well too with my testing of this latest software on Ubuntu 17.04. Those wanting to learn more can do so via OpenRazer as well as the other links mentioned in this quick shout-out.
If you enjoyed this article consider joining Phoronix Premium to view this site ad-free, multi-page articles on a single page, and other benefits. PayPal or Stripe tips are also graciously accepted. Thanks for your support.