Show Your Support: Did you know that the hundreds of articles written on Phoronix each month are mostly authored by one individual? Phoronix.com doesn't have a whole news room with unlimited resources and relies upon people reading our content without blocking ads and alternatively by people subscribing to Phoronix Premium for our ad-free service with other extra features.
OCZ Fatal1ty Series 700W
System Setup:
We tested out the OCZ Fatal1ty 700W power supply by running it with a system that had an Intel Core 2 Duo E8400 running at 4.00GHz. ASUS P5E64 WS Professional motherboard, 2GB of OCZ DDR3 memory, Western Digital 160GB SATA drive, SATA DVD-RW drive, and an ATI Radeon HD 4870 512MB graphics card. On this Intel system we were running Ubuntu 8.10 with the Linux 2.6.27 kernel.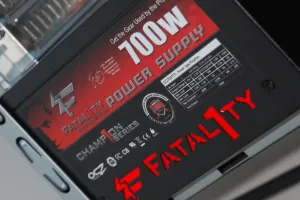 Per our standard power supply testing procedures, we monitored the voltages when the system was idling within the GNOME desktop for 30 minutes and then the load testing was done by running the GraphicsMagick and Nexuiz tests from the Phoronix Test Suite. The voltages were monitored using a digital multimeter.
Besides these quantitative results, the 120mm fan on the Fatal1ty power supply was quiet while running and we ran into no operational difficulties with this power supply.
Conclusion:
Over the years of testing OCZ Technology products we have been quite pleased with a majority of their wares and the Fatal1ty 700W power supply is yet another example of an excellent, well-made product. The OCZ Fatal1ty power supply delivered clean and stable voltages, enough appropriately sized cables and connectors (though seeing four PCI-E connectors would have been nice), has a nice appearance, and has a 56 Amp +12V rail. On top of that, the Fatal1ty 700W is backed by OCZ's exclusive five-year PowerSwap warranty.
This is a great power supply that we have no problems recommending, but if you will be loading this system up with the latest and greatest hardware, you will likely be better off with a higher wattage power supply and more PCI Express power connectors. The OCZ700FTY power supply is retailing for about $120 USD, which is nicely priced and competitive for this high-end power supply.
If you enjoyed this article consider joining Phoronix Premium to view this site ad-free, multi-page articles on a single page, and other benefits. PayPal or Stripe tips are also graciously accepted. Thanks for your support.