Show Your Support: This site is primarily supported by advertisements. Ads are what have allowed this site to be maintained on a daily basis for the past 18+ years. We do our best to ensure only clean, relevant ads are shown, when any nasty ads are detected, we work to remove them ASAP. If you would like to view the site without ads while still supporting our work, please consider our ad-free Phoronix Premium.
NVIDIA GeForce GTX 460 On Linux
NVIDIA formally introduced the GeForce 400 "Fermi" graphics card series in late March when rolling out the GeForce GTX 470 and 480. This launch was followed by the GeForce GTX 465 availability in late May and then in the middle of July there was the launch of the GeForce GTX 460 768MB and GeForce GTX 460 1024MB graphics cards. For the past few weeks we have had our hands on the Palit GeForce GTX 460 768MB graphics card that was sent over by NVIDIA to conduct our first tests of the Fermi / GF100 hardware under Linux. While the GeForce GTX 460 isn't clocked as high as the GeForce GTX 480 and has a slimmed down core, its performance is rather nice for being a $200 USD graphics card and is able to pack a performance punch when using NVIDIA's proprietary Linux driver.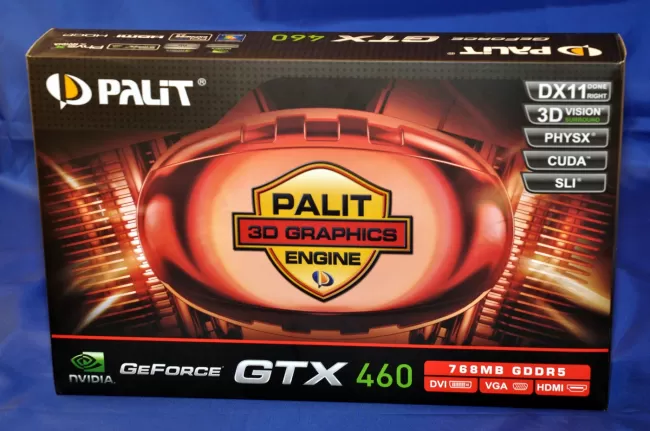 The GTX 465/470/480 Fermi parts that launched prior to the GeForce GTX 460 were based on NVIDIA's GF100 core, but with the GTX 460 model there is now the GF104 core. The GF104 chip is physically much smaller than the GF100 (1.95 billion transistors versus 3.00 billion and the die size is 30% smaller) and, of course, it is carrying a reduced set of features. With the GeForce GTX 460 there are 336 Stream/CUDA processors versus 352 on the GeForce GTX 465 or 480 with the high-end GeForce GTX 480. The core clock for the GeForce GTX 460 is also at 675MHz while the GeForce GTX 465 was clocked at 607MHz and the GTX 480 is up at 700MHz. The shader clocks are at 675 / 607 / 700 MHz and the GDDR5 memory clocks at 900 / 802 / 924 MHz, respectively, for the GeForce GTX 460 / 465 / 480. Besides the video frame-buffer size differing between the GTX 460 768MB and GTX 460 1GB, the latter has a 256-bit memory interface while the lower-cost GF104 only has a 192-bit width, but beyond that and then having 24 versus 32 ROPs, the two current GF104 graphics cards are quite similar. This is in comparison to the GeForce GTX 480 with a 384-bit memory bus. The GeForce GTX 460 768MB has a launch MSRP of $199 USD while the GeForce GTX 460 1024MB is positioned at $229 USD.
The NVIDIA GeForce GTX 460 also supports two-way SLI, 3D Vision / 3D Vision Surround, PureVideo HD, PhysX, CUDA, Microsoft DirectX 11.0, and OpenGL 4.0. For those concerned about the power consumption of the GeForce GTX 460 its TDP is 160 Watts but when idling it should be about ~40 Watts. All of the Fermi cores are built on a 40nm TSMC fabrication process.
NVIDIA sent over a Palit GeForce GTX 460 768MB graphics card for our initial Fermi Linux testing. This graphics card carries a model number of NE5TX460FHD79 and complies closely with NVIDIA's GF104 reference specifications. Palit also offers the NE5X460SF1102 as their standard GeForce GTX 460 1GB offering while they also sell the Palit GeForce GTX 460 1GB Sonic Platinum Overclocking Edition that ships with a factory overclock of 800MHz for the GF104 core and 1600MHz for the GDDR5 memory. Last but not least, Palit also has a 2GB version of the GeForce GTX 460 that is similar to the 1GB version with its 256-bit memory bus and 32 ROPs, but with double the frame-buffer. Unfortunately we only have our hands on the GeForce GTX 460 768MB graphics card so we are unable to see how well the other graphics cards perform with Linux or how NVIDIA's doing these days with their SLI support on Linux. Included with the retail Palit GeForce GTX 460 was their quick installation guide, graphics driver CD for Windows, and then a double 4-pin molex to 6-pin PCI Express power adapter.